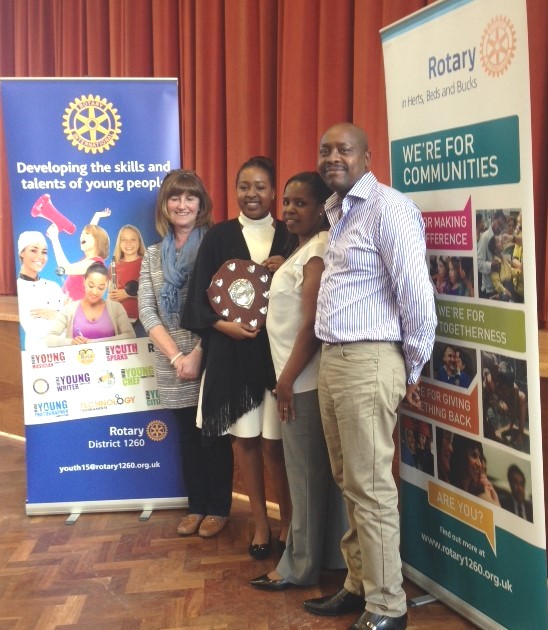 Did You see? our sponsored young musician Sarah Ikumu, from the 2016 Rotary Young Musician competition, go all the way to the final of T.V.'s 'Britain's Got Talent' on Saturday 3rd June 2017. Sarah came seventh out of the 10 finalists and a professional singing career beckons.
.
Donation to St. George's Church, Wolverton: In the lead up to Christmas we made a donation of £500 to help with the church's work in supporting the homeless. Reverend Gill Barrow-Jones, Rector, commented "this is extremely kind of our local Rotary club and it will make a big difference to the way in which we can help individuals in need".
.
Hurricane Disaster Relief: Following the devastation caused by hurricanes in the Caribbean in 2017 we forwarded in September 2017 a donation of £1,000 to the disaster relief charity, Shelter Box.
The green boxes are designed to help people who have lost everything and are filled with practical tools and utensils to help with everyday living.
.
Bekash Evening
.
A profit of over £1100 was raised at our fundraising event at the Bekash Restaurant in Stony Stratford on 31st October 2017, in support of SERV the blood bikes charity and 'Lend with Care'.Thank you to Indra Patel and his organising committee and also to restaurant owner Mr Murkit for his generous support.
.
Tour of Printers: Thirty-one members, friends and relatives were treated to a most interesting conducted tour of Buckingham Colour Quest printers on 25th July 2017, followed by a very sociable evening meal at Pregos Italian restaurant. Many thanks to Baz for organising the visit and meal.
.
Kids Out Day - 14th June 2017
.
Chris and Judith Byard accompanied over 110 children and 90 helpers from Walnuts School on their annual day out to Whipsnade Zoo. It was all part of Rotary Kids Out Day when children throughout Rotary District 1260 get the chance to have fun and exciting experiences in the safe environment of the Zoo. In brilliant sunshine the youngsters enjoyed the huge variety of animals on display (at a safe distance!) plus the exciting train ride and adventure playground. At the end of the day there were a lot of tired but happy youngsters!
.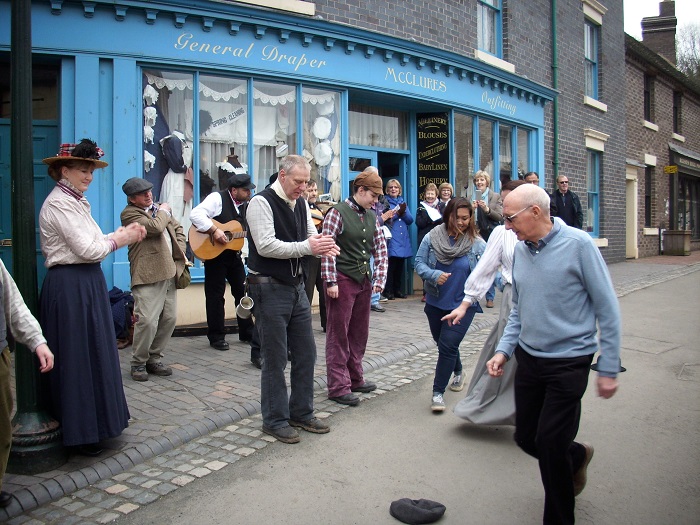 .
Trip to Ironbridge
.
Thank you to John Waters for organising a very enjoyable weekend break to Ironbridge in March 2017. Highlights included visits to the Victorian village at Blist Hill, the Coalport China Museum and the Gorge Museum, plus of course the very comfortable hotel and convivial company. Thank you also for the excellent care extended to us throughout the weekend by Jewels Tours.
.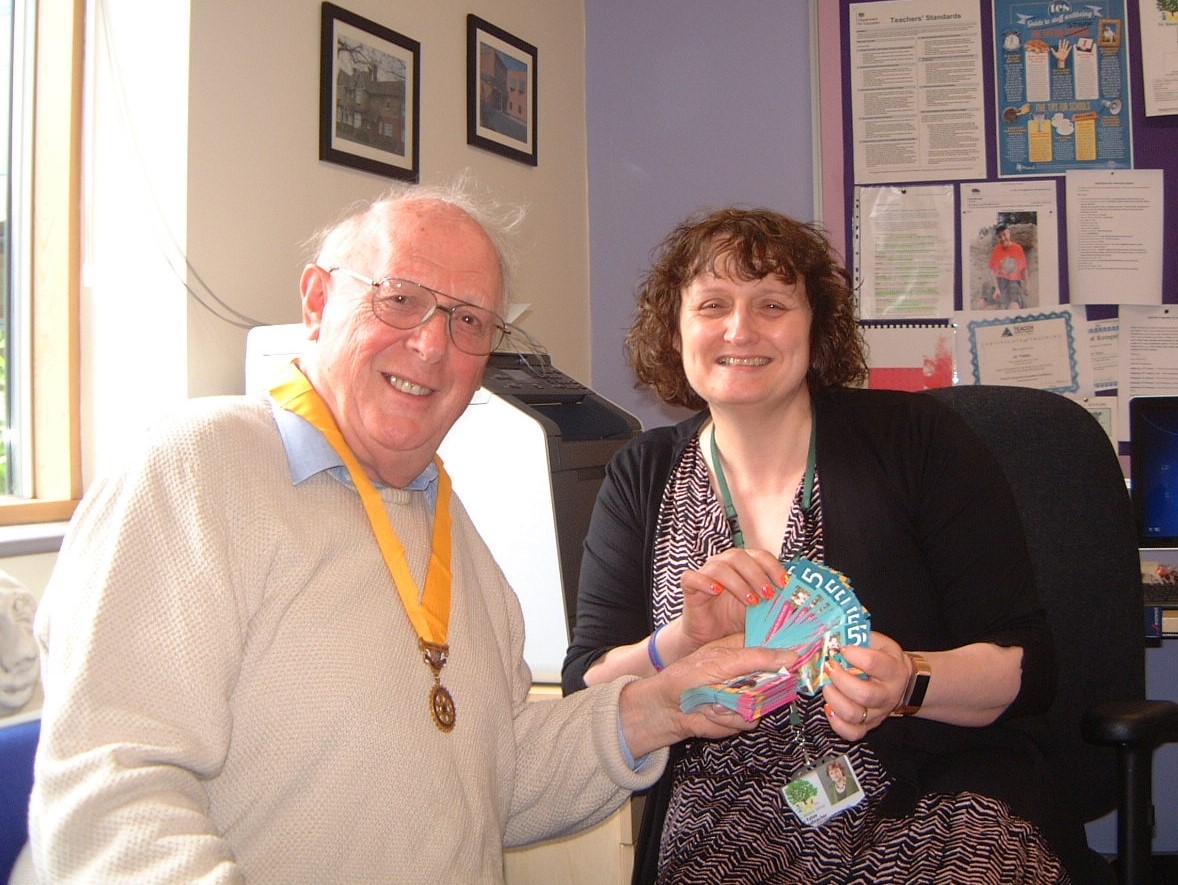 .
Sainsbury's Vouchers
.
Vice President Tom Green's collection of 371 Sainsbury's 'Active Kids' vouchers will soon be put to very good use in purchasing games equipment for Walnuts School. Pictured above is Tom handing over the vouchers to Jo Wates, Head Teacher, to add to the school's own collection. For details of the Active Kids programme visit: http://activekids.sainsburys.co.uk/
.
Members' News
.
Congratulations to John Moss on receiving the Rotary District 1260 Foundation Cup at the recent district induction dinner. John has worked tirelessly on Rotary Foundation duties throughout the year and most recently secured the provision of defibrillators at key locations throughout the district.
.
Marathon Lady: Congratulations to Karen Lower on completing her first London Marathon on Sunday 23rd April 2017. Karen, a keen runner and past competitor in the MK Marathon, achieved a time of 5hrs, 4 minutes. Karen collected sponsorship money in support of Headway, the brain injury charity.
.
Welcome to our two new club members, Baz Curryer and Nick Drury, who joined us in March 2017.
.
Congratulations to Chris Byard upon receiving a Paul Harris Fellowship award in March 2017 in recognition of all his work for the club over the past 20 years, most recently steering the sensory room project for Walnuts Care.
.
Chinese Evening - 28th March 2017
Thank you to everyone who supported our Chinese Meal evening on 28th March 2017. A profit of just over £540 was raised in aid of children's charities. Thank you also to the Kam Tong Garden restaurant for putting on a splendid meal and to our generous sponsors and raffle prize donors.
.
Donations were made to several local charities in January 2017, from the proceeds of our Christmas Float collections, most notably Willen Hospice (£1,000), Tools-for-Self Reliance, Wolverton Scouts, Wolverton Moles, Wolverton Inner Wheel, Wolverton-in-Bloom, Stony-in-Bloom and Super-shoes, plus a grant of £500 to the club's sensory room project.
.
Grand Autumn Draw - 2016
.
Thank you to everybody who bought raffle tickets in our Grand Autumn Draw. The draw generated a profit of over £800 which will go towards the purchase of equipment for a new sensory room, for autistic youngsters, based at Walnuts Care in Galley Hill, Milton Keynes.
.
Clay Shoot Contest - 23rd October 2016
.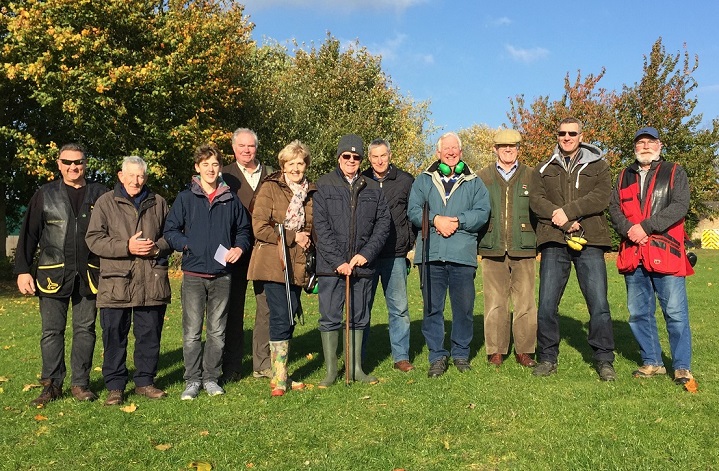 .
Captain Bob Russell carried off the spoils at our recent clay shoot competition, with an impressive 10 out of 10 score. No doubt his previous army service had a lot to do with this success. A very enjoyable morning's shooting, with thanks to Barry Love for organising the event.
.
Thank you: It was best foot forward on our walk along the canal at Cosgrove on 23rd August 2016 followed by a delicious meal at the Barley Mow. Thank you to Ann for organising a splendid evening.
.
Golf Day at Farthingstone - October 2015
.
Another damp day for our Autumn competition at Farthingstone Golf Club on 15th October (we will have to hold it a little earlier in the year next time!). An enjoyable event rounded off with a lovely meal in the evening and plenty of lively banter. The day raised £200 for community and youth service projects. Thank you to Allan Nall (organiser), Malcolm Poulter, Jim Barnes, the players and all who helped on the day.
.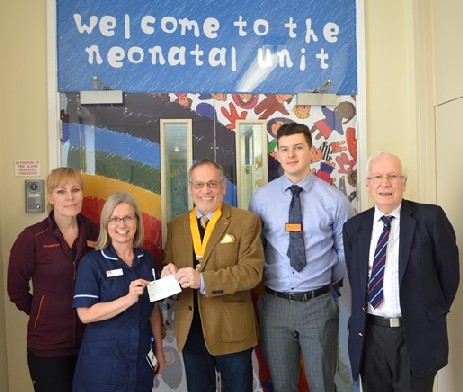 .
Boost for Little Lives
Pictured above (centre) is Vice-President Marcus Rixon presenting a cheque for £630 to staff at 'Little Lives MK Hospital neo-natal unit'. The money, raised at our Christmas Float collection at Sainsburys' store in MK, will fund much needed state-of-the-art new equipment for the ward. Marcus was acompanied by Club Treasurer Malcolm Poulter (pictured far right).
.
Cruise on the Ouse - 31st May 2016
Club members and guests recently enjoyed, in spite of the torrential rain showers, an afternoon cruise on the Great Ouse in Bedford. In true British spirit a good time was had by all, despite the inclement conditions! Thank you to John Moss who organised the trip.
.
Movember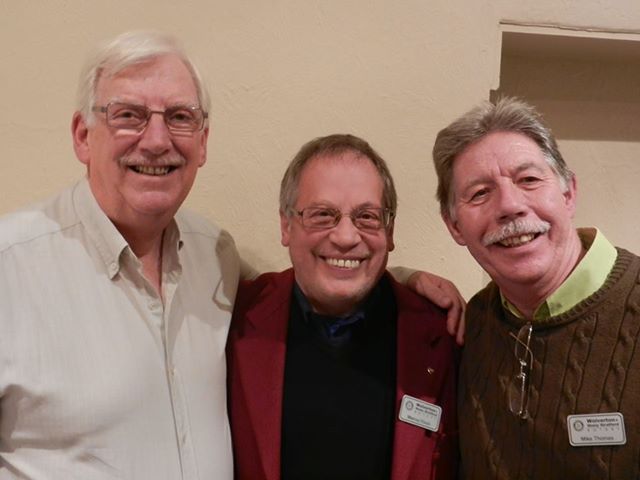 Rotarians, Barry, Marcus and Mike, all did their bit for men's health by being allowed to grow their moustaches for Movember raising £169 for Prostate Cancer UK charity. Well done gents.
.
Club learns of Rotary in Action in India
Our club was privileged to receive a visit from Amil Patel, President of the Ahmedabad Sterling Rotary Club, last September. As one of several Rotary clubs in Ahmedabad (the largest city in Gujarat, northwest India) the Sterling club was formed just two years ago and already has built up a flourishing and enthusiastic membership of 29.
President Amil described how his club had been actively involved in supporting the Co-Curricular Centre at Gokul Ashram Shala, a boarding school for children from 'below poverty level' families. Amongst the many 'extra curricular' activities currently provided by the club are sports, cooking, physical education, sketching, singing and computer work, with others such as photography, performing arts and capentry planned for the future. The Sterling club is also justifiably proud of the school's new toilet facilites it has recently funded. Our club has agreed to support this project, and assist with a Rotary 'matching grant' application..
Rtn Mike Thomas, Club PR Officer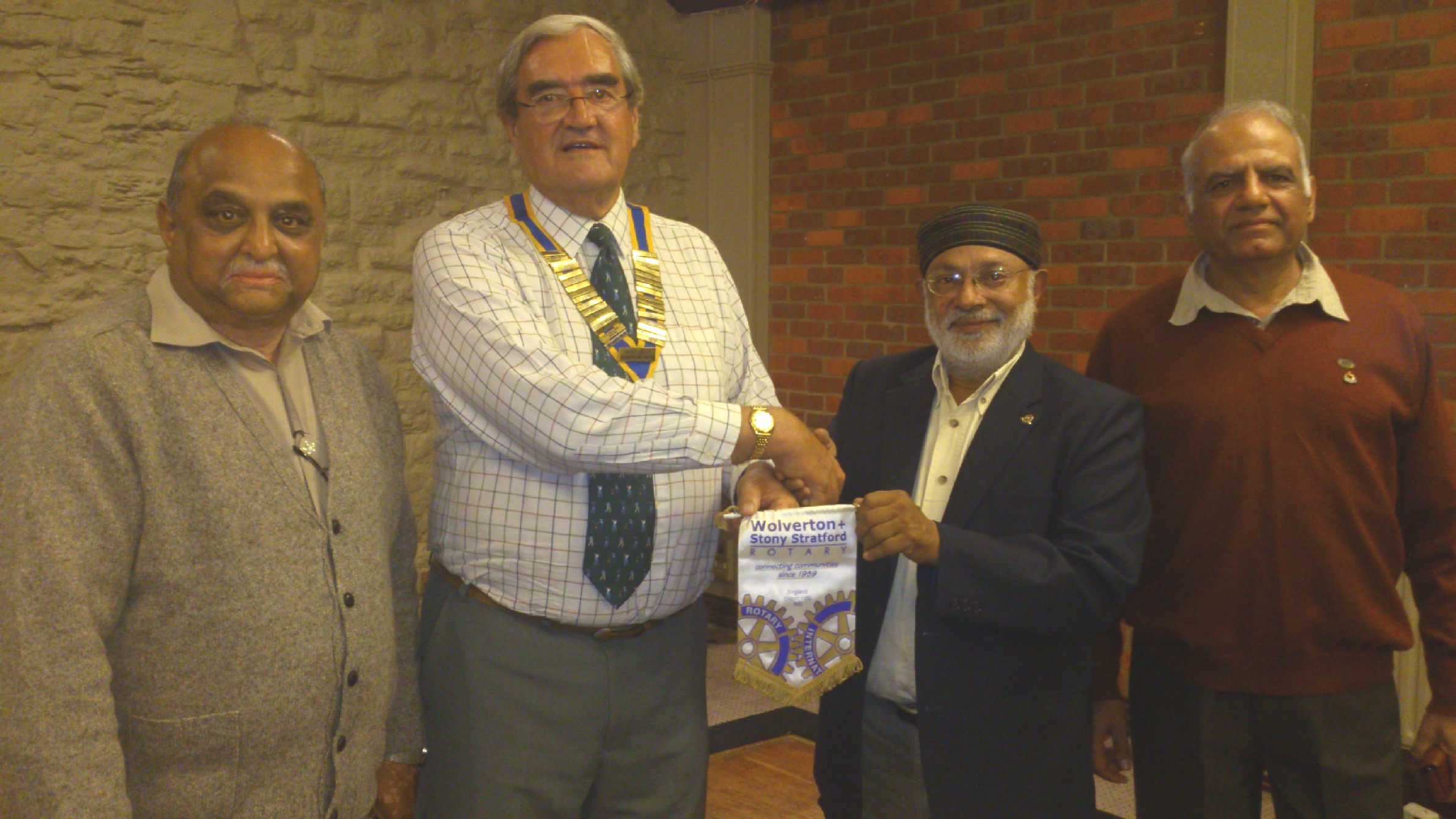 Pictured receiving our club banner from President Jim Barnes is President Amil, together with colleagues Ashvin Patel (left) & Ashok Sheenam (right)
.
Air Ambulance Fundraiser - Oct 2013
A charity dinner held last October at the Bekash Restaurant in Stony Stratford raised nearly £600 for the Thames Valley & Chilterns Air Ambulance Trust, known locally as 'BOB' (Bucks, Oxon & Berks).
Club President Jim Barnes said "all guests had a very enjoyable evening and we thank Mr Mukit, owner of the Bekash, for his hospitality in making this donation possible. 'BOB' Air Ambulance is a tremendously important service that relies totally on donations". A ceque was presented to Tony Franklin from 'BOB', who gave a very informative talk on the work of the Trust. Other funds raised on the evening went will go towards our Indian School project.
Rtn Mike Thomas, Club PR Officer
Bowling for Fun & Prizes
An enjoyable evening was spent Ten Pin bowling in Milton Keynes last October. Participants were awarded prizes for most stylish, funniest, lowest and highest scores. There was talk of a 'ringer' amongst the players who had turned up complete with own bowling shoes and then won top prize! Kevin's guide dog thoroughly enjoyed himself barking at the bowls all evening.
.
New Man at the Helm for 2013/14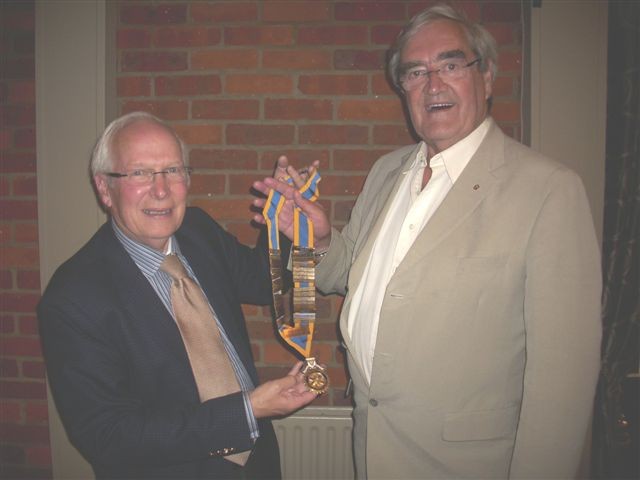 Outgoing President Malcolm (pictured left) handed over the chain of office to incoming President Jim Barnes at a special meeting of the Club on 2nd July.
Malcolm thanked everyone for all their hard work over the past year and said how much he had enjoyed his year in office. President Jim welcomed in his new team and said he was looking forward to the year ahead, continuing with all our work for local and international good causes. Bob Russell was inducted as the new Vice-President.
Golf Day at Abbey Hill - 6th June 2013
A fantastic day with nearly sixty players participating - over £3,200 raised for 'Kids Out', the fun and happiness charity for disadvantaged youngsters.
Donation to 'Stony Stratford in Bloom'
In June 2013 we donated £100 to 'Stony in Bloom'. Pictured is the planter at the junction of High Street/Church Street, on which our club name plaque is currently located.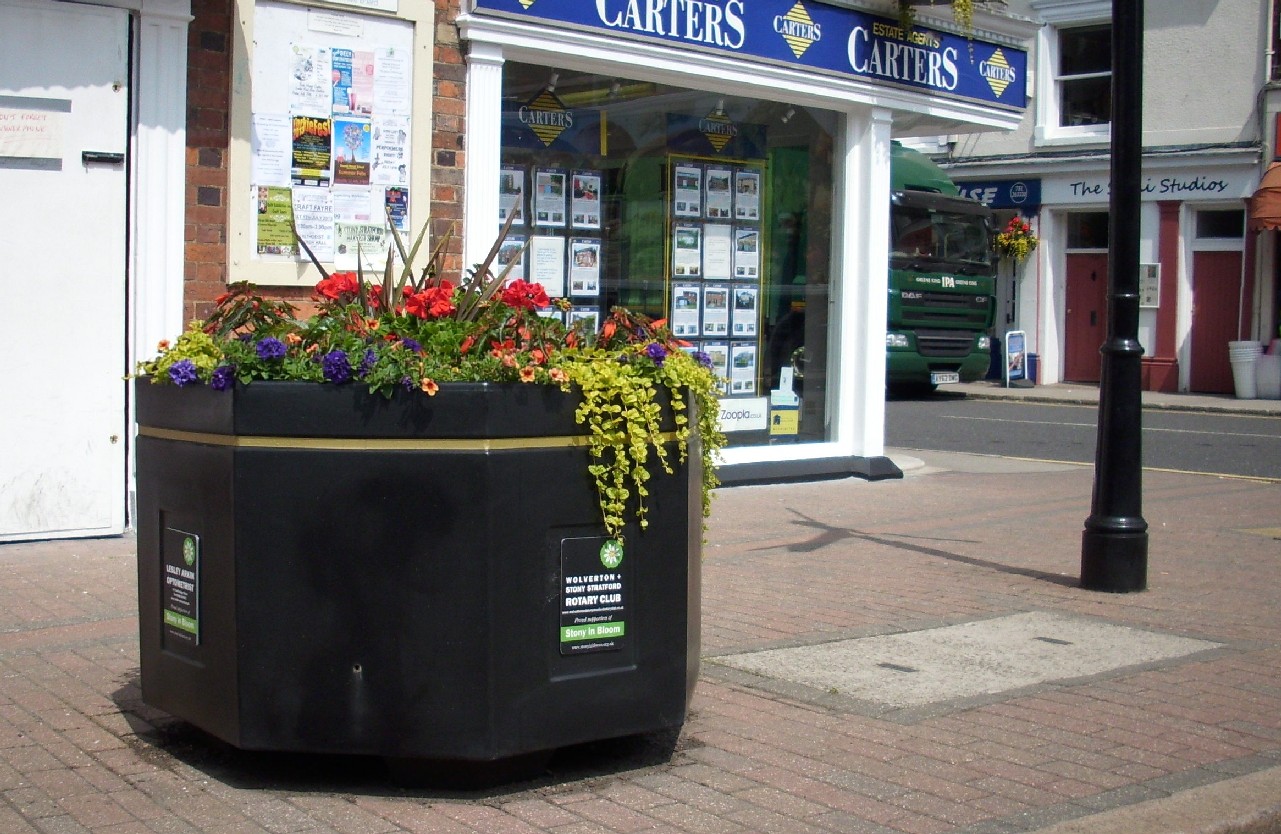 And our congratulations to SSIB who have just won the Thames & Chilterns Small Town Britain in Bloom award for the fourth year running - and once again with a coveted Gold Award
Loop-the-loop in a Glider Challenge
At the third attempt, due to improved weather conditions, the loop- the- loop challenge was held on Saturday 7th July 2012. Six flyers completed two loops each (including Rotarian Chris Byard) before relaxing for a more gentle flight over the Dunstable Downs. A seventh participant flew on an earlier date. Chris joins an elite group of club members (John Moss and John Woollett) who have previously undertaken this hair-raising challenge.
The event raised over £3,400 split between the Club and participants' own charities. An additional £704 was raised through 'Gift Aid' which went towards Rotary International's 'End Polio Now' campaign.
Our grateful thanks go to the London Gliding Club, to all participants & their sponsors, to everyone who helped with the arrangements and to Rtn. John Moss who organised the whole event.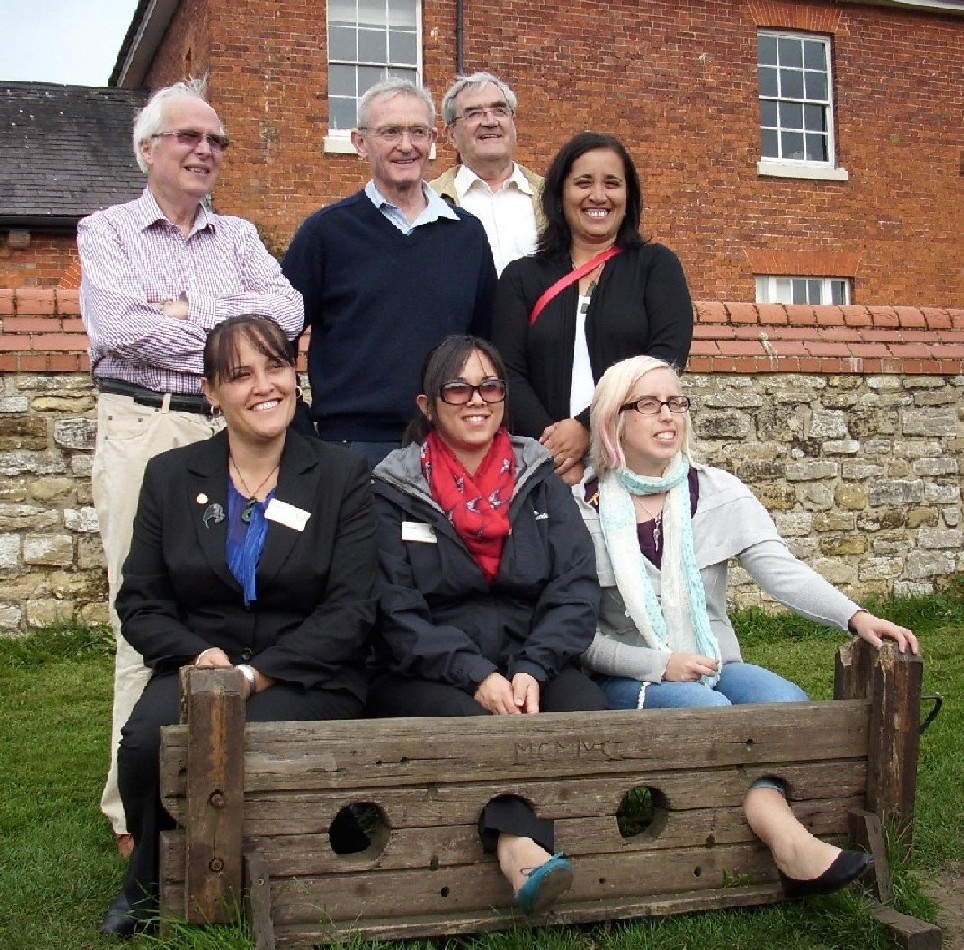 The Group Study Exchange Team from New Zealand pictured with President Malcom and Vice-President Jim after their tour around Milton Keynes Museum
.
Cheese & Wine Evening - 5th March 2013
A cheese and wine evening was held at the home of Chris and Judith, with almost 40 members, partners and guests attending. A profit of over £370 was raised for 'international' good causes.
Thank you to all who supported the event, to Judith and Pat who provided the catering, to Brian Stuart and John Waters who ran the raffle, and to Costco, Milton Keynes, who donated raffle prizes.
.
Visit to Aston Martin
What a change from our usual Tuesday evening meeting. A tour around Aston Martin in Newport Pagnell and its heritage centre, with lots of very expensive cars on show. And followed up with a delicious meal at Robinsons.
.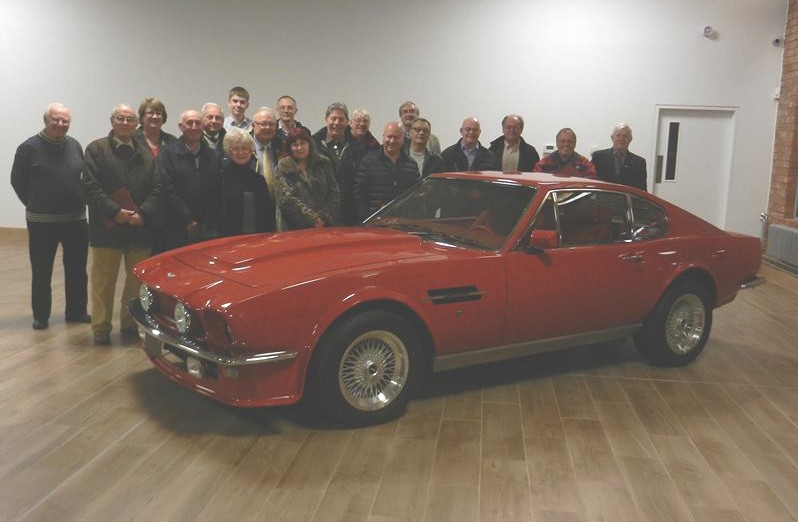 .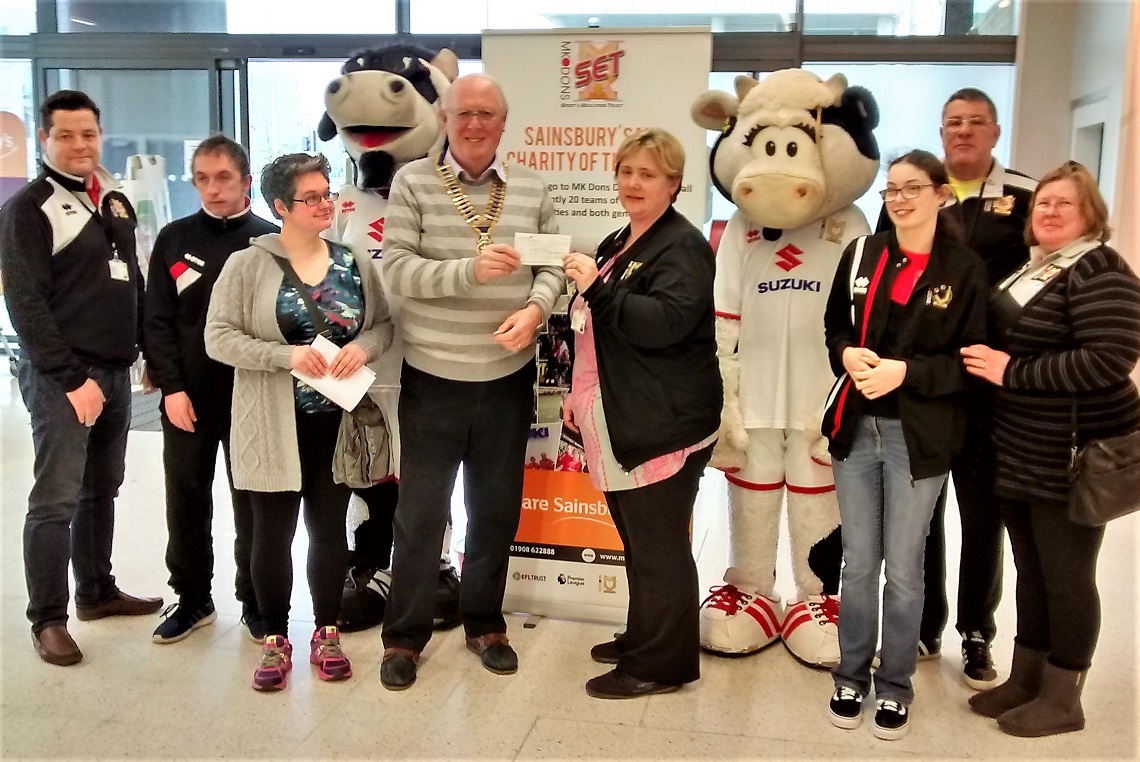 .
MK Dons Sports Education Trust
.
Pictured above is President Tom presenting a cheque for £700 to Kelly Day, Volunteer Fundraiser for MK Dons SET, with Shelley Day, Sainsbury's PR Ambassador, together with SET volunteers and players. Keeping a close eye on proceedings are MK Dons mascots Mooie and Donny.
.
The money was raised on one of our five collection days with Santa at Sainsbury's, in the run up to Christmas 2017, and was gifted to MK Dons Sports Education Trust, Sainsbury's charity of the year.
.
We are grateful to customers at the store who gave so generously to our Christmas collection, with proceeds from the other four collection days going to our charity project of the year, 'Blood Bikes - SERV', and other local charities including Willen Hospice.
.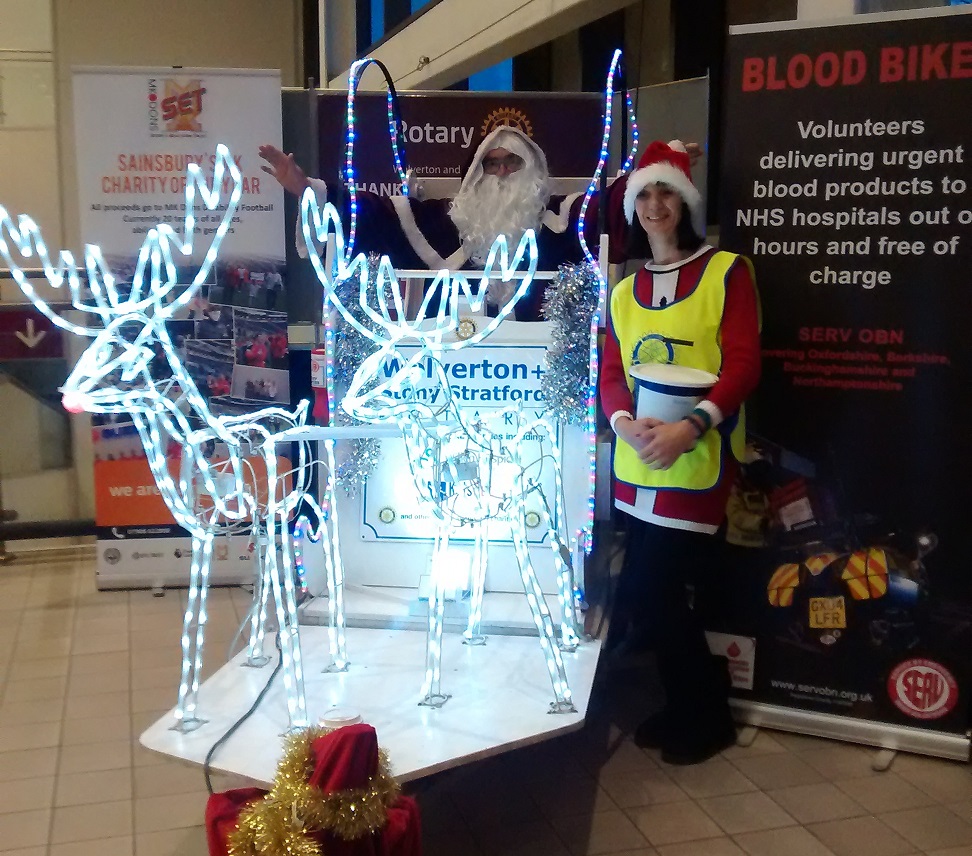 .
Santa's Tour
.
Huge thanks to all members of the public who gave so generously to our Santa Sleigh when it toured around the northern parts of Milton Keynes and local supermarkets during December 2017.
.
Santa's tour raised the magnificent total of £5,875, which was distributed to various charities and local community organisations including Willen Hospice, Kids Out, SERV (Service by Emergency Rider Volunteers - 'Blood Bikes') and MK Dons Sport & Education Trust.
.
Special thanks also go to those who helped our members with the collections and to the management & staff of Budgens in Stony Stratford and Sainsbury's in Central Milton Keynes for kindly allowing us to collect at their stores.
.
Christmas Quiz
.
Our Rotary Christmas Quiz provided considerable entertainment for some, frustration for others, but at least something to while away any dull moments over the festive season. Several hundred copies were sold and 36 entries were returned of which 6 were 100% correct. With the answers there were some very imaginative, even strange, parts to some people's bodies!!
.
The winning entries were
221 - Helen B, 223 - Jim B, 266 - Jenni D
482 - Peter A, 216 - Kevin M, 260 - Marion C
.
Rather than divide the prizes (as stated in the rules) we will give £10 to each successful competitor. The competition raised £307 overall and with a 2 for 1 matched funding donation from the Bill Gates Foundation a whopping total of over £900 has been raised for good causes. Thank you all for your support.
.
For all the correct answers click the link below:
http://www.wolvertonandstonystratfordrotaryclub.co.uk/xmas-quiz.pdf
.
Cowper Museum
.
Members, friends and relatives were treated to a very interesting conducted tour of the Cowper Museum in Olney on 26th September 2017. Then it was a short walk across the High Street for a delicious evening meal at the Donzella Italian restaurant. Thank you to Ann Waters for organising the visit and meal.
.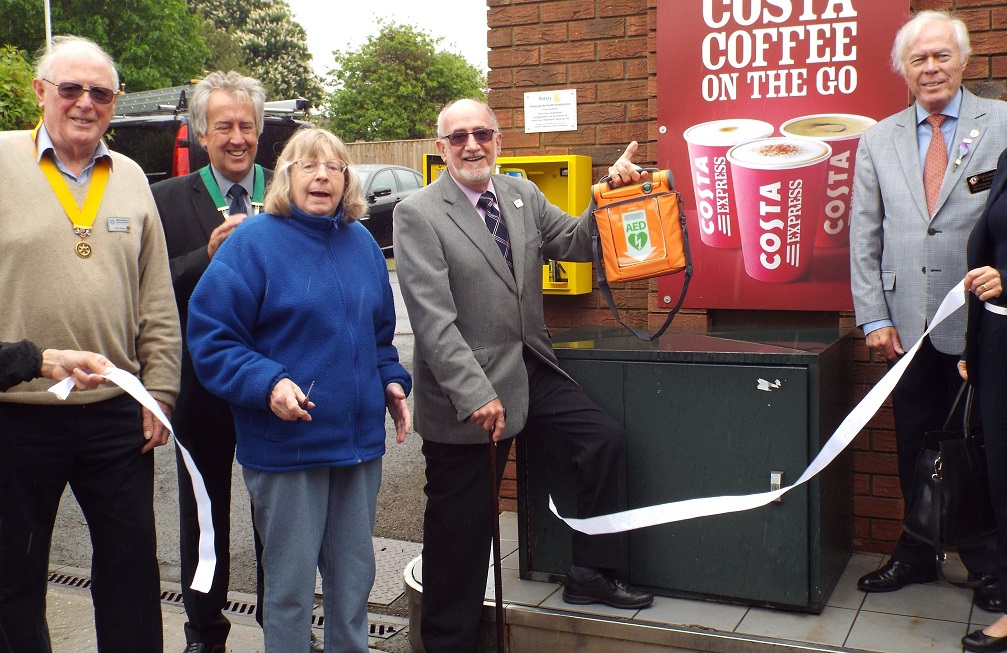 New Defibrillator in Stony Stratford
Sixteen representatives from Rotary, Stony Stratford Town Council, Milton Keynes Council and BP assembled at the BP Filling Station in London Road, Stony Stratford in May 2017 for the official presentation of a new defibrillator.
Arranged by our Rotary Club in conjunction with the Town Council and the Community Heartbeat Trust charity, and funded by a grant from the Rotary International Foundation, the defibrillator is prominently located on the garage forecourt and will be available 24/7 for use by the public to treat anyone who is in cardiac arrest by giving a high-energy electric shock.
John Moss, the club's Foundation Chairman said "We are really pleased to have been involved with this project and are most grateful to BP for agreeing to have this important life-saving equipment on their premises".
In order to provide awareness and training so that people have confidence to use defibrillators, and have more people in the community able to offer CPR (Cardio Pulmonary Resuscitation), the public were invited to a CPR information meeting run by the Community Heartbeat Trust at Stony Stratford Library in June.
Pictured above is Cllr Joan Walker MBE, Chair of Stony Stratford Town Council cutting the ribbon to officially launch the new defibrillator, accompanied (L to R) by Rotary Club Vice President, Tom Green; Milton Keynes Deputy Mayor, Cllr David Hopkins; Rotarian John Moss and Rotary District Governor, Chalmers Cursley.
Mike Thomas, PR & Communications Officer
.
Waitrose Donation: Thank you to Waitrose, Oakgrove Store, for the very kind donation of £174.00 towards our kids out day at Whipsnade Zoo in June 2017 for disadvantaged youngsters. This was the amount raised for our charity from the store's 'community matters' green token scheme, which asked shoppers to vote for one of three featured good causes during the month of May.
.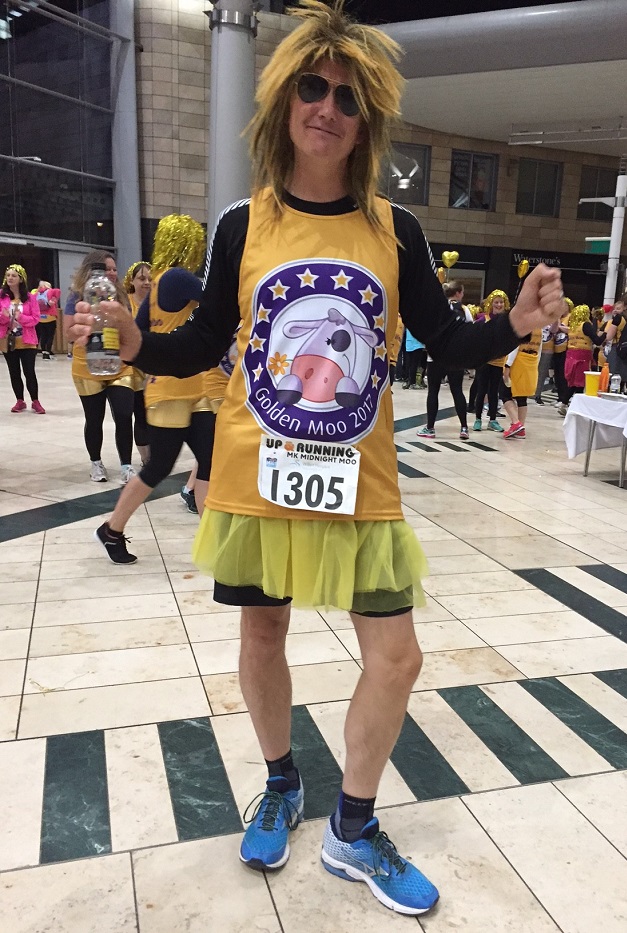 .
Rotarian Simon getting in the Moo'd
.
With sponsorship from the Rotary Club of Wolverton & Stony Stratford, Simon Webb had no hesitation in donning his gold wig and frilly tutu to join over 1,000 others for this year's Willen Hospice Golden Midnight Moo on 15th July. Traditionally a walk exclusively for women, Simon was one of a maximum of only 50 men allocated a Gold Band to participate in the walk this year to mark MK's 50th anniversary.
.
After the walk, Simon said "I always like to keep fit and this seemed a great way of combining that and my club's ongoing support for Willen. I thoroughly enjoyed the walk, the night was so well organised and, of course, I am most grateful to my fellow Rotarians for agreeing to support me in this way."
.
Mike Thomas, PR & Communications Officer
.
Rotary Technology Tournament - 2017
Teams from schools across Milton Keynes competed in the Rotary Technology Tournament on 15th March 2017. The annual event, organised by all the Rotary clubs within Milton Keynes, was held at Denbigh School.
.
Teams of four were challenged to design, construct and test a vehicle to travel along a pipeline and move debris. Marks were awarded for teamwork, design, manufacture, documentation & task completion. An enjoyable experience watching the enthusiasm and ingenuity of all the students. Cash prizes and shields were awarded to the winners of the three class categories.
.
Foundation - Ousedale
Intermediate - Ousedale
Advanced - Radcliffe
.
Congratulations to all contestants and the eventual winners. Thanks go to the event organisers, sponsors, participants, judges, and our hosts at Denbigh School.
.
.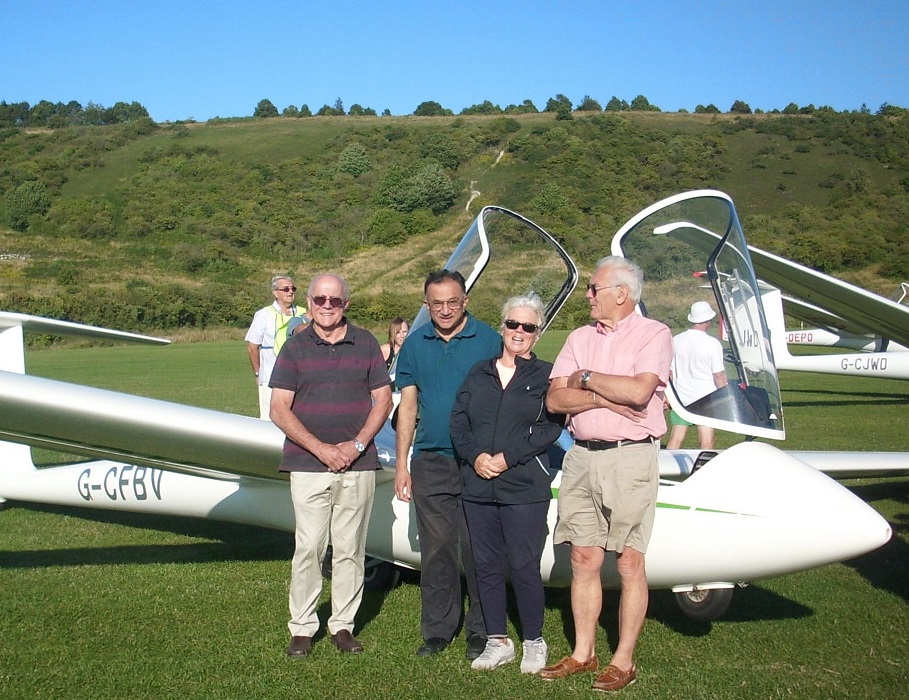 .
Loop-the-Loop has raised over £3,000
.
Now in its fifth year, the sponsored 'Loop-the-Loop' in a glider event organised by Wolverton & Stony Stratford Rotary Club continues to attract more willing volunteers, including this year four members from our own club and Rotary District Governor Chalmers Cursley. A total of 13 flights took place courtesy of the London Gliding Club at Dunstable Downs on Friday 12th August 2016 with each participant experiencing at least one exhilarating full loop in the glider. Half of their sponsorship goes to Rotary's worldwide Polio eradication campaign, the other half to a charity of their own choice. The event was rounded off with the traditional barbecue.
.
Organiser, Rotarian John Moss, said "It was a fantastic evening with perfect weather conditions and a great opportunity for my club to help raise funds for charity. Thank you to everyone who made the event possible, especially all the brave and enthusiastic 'loopers' and their sponsors, and the London Gliding Club and its pilots."
.
Pictured above, left to right, are club members David Hildreth, Indra Patel, Judy Hildreth and David Sansome. "Well, who wants to go first then?"
.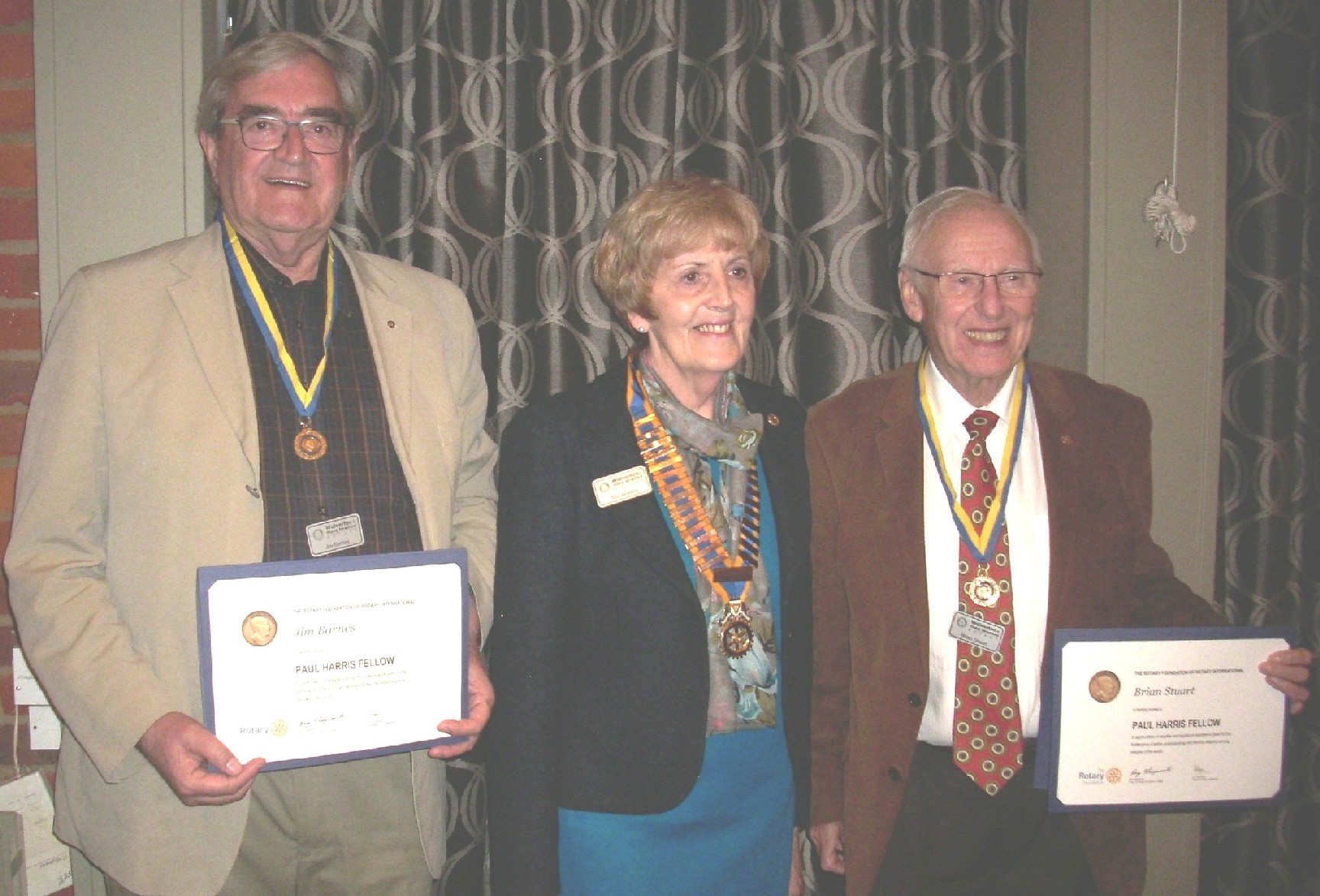 .
Paul Harris Awards - April 2016
Congratulations to Jim Barnes and Brian Stuart upon receiving Paul Harris awards in recognition of all their work on making the Hazel's Ambulance Appeal such a success. Pictured above are Jim and Brian after receiving their awards from President Ann Waters.
.
Chinese evening - 26th April 2016
Thank you to everyone who supported our Chinese Meal evening. A record profit of just over £1,000 was raised in aid of children's charities and our Sensory Room appeal for Walnuts Care. Thank you also to the Kam Tong Garden restaurant for putting on a splendid meal and to our generous sponsors and raffle prize donors.
.
Rotary gives MK Act early Christmas Present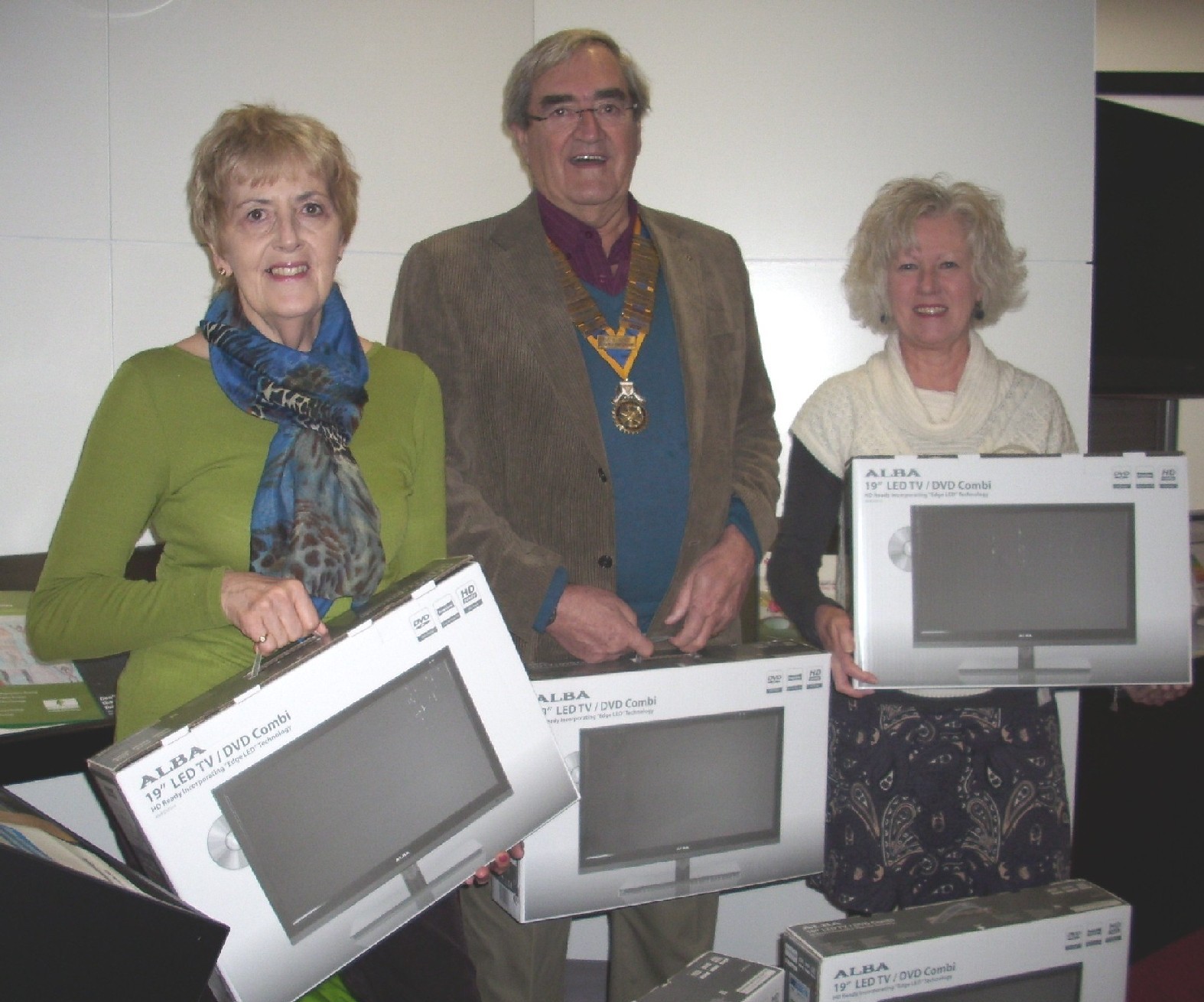 .
Our club was pleased to present eight televisions to MK Act and just in time for Christmas. Coleen Kelly, MK Act's Service Development Manager said "we are extremely grateful to the Rotary club for these televisions which will be placed in the residents' rooms at our Refuge. They will be a most welcome addition to the support facilities that MK Act provides for those in need of temporary accommodation as a result of being at risk or who have actually experienced domestic violence or abuse.
.
Club President Jim Barnes said "we fully appreciate MK Act's valuable work in Milton Keynes and we are delighted to have been able to support them in this way."
.
Pictured above (left to right) are Rotarian Ann Waters, Club President Jim and Coleen Kelly
Stony Stratford August Fayre 2013
.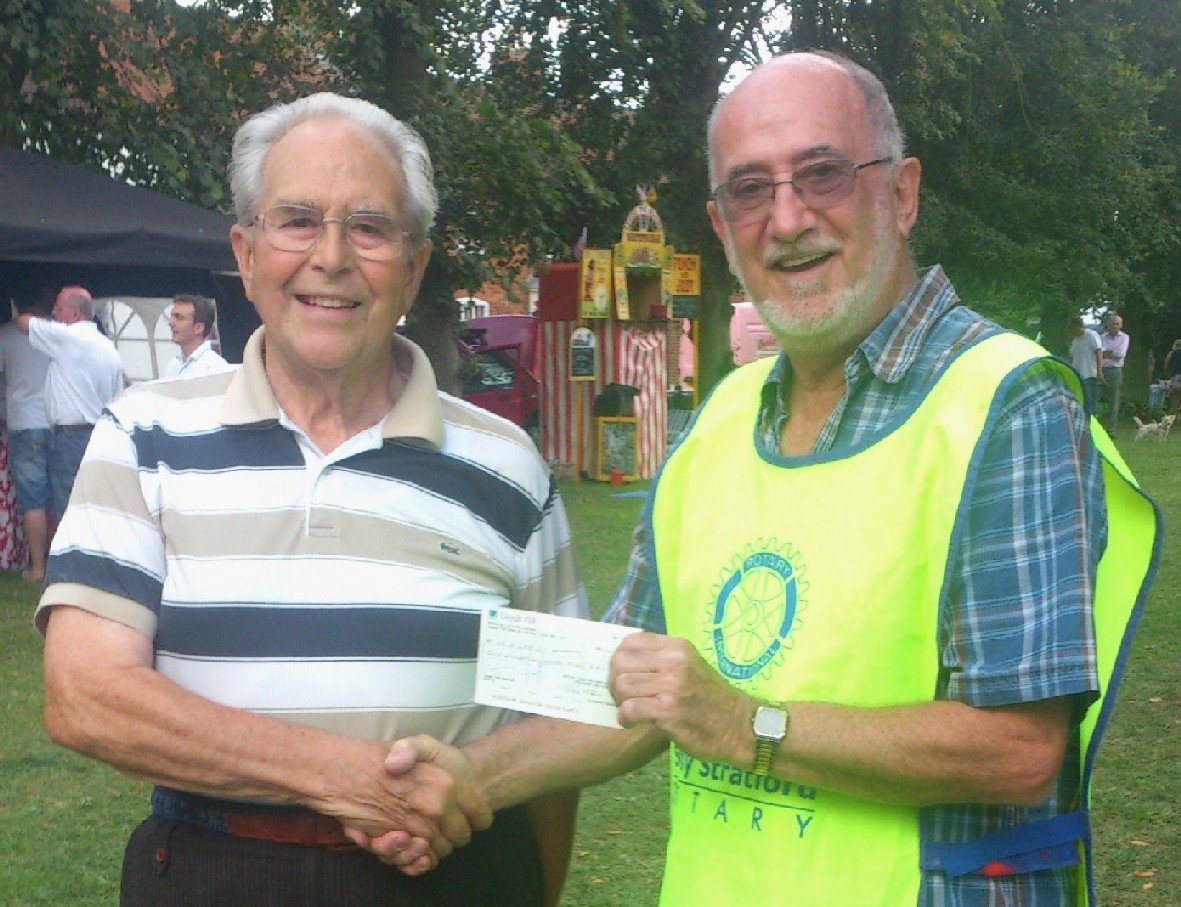 Congratulations to the winner of our 'End Polio Now' raffle, Mr A Leete of Old Stratford, seen here collecting his cheque from Rotarian John Moss. The raffle raised £411 and the sweetie tombola £182. Thank you to everyone who supported our fundraising stalls at Stony Fayre.
Kids Out Day - 12th June 2013
Over 60 children from Walnuts School and over 30 teachers, teaching assistants and volunteers accompanied Rotarians Ann Waters, Jim Barnes, Chris Byard and Cecil Macaulay on the annual visit to Whipsnade Wildlife Park.
Cruise on the Ouse - July 2013
It was 'all aboard' as 45 members of Rotary and Wolverton Inner Wheel Club, together with friends and family, set off on 26th July from Priory Marina in Bedford for a most pleasurable two hour-plus hot summer evening cruise along the River Great Ouse. The trip on the 'John Bunyan', the newly launched £150,000 Community Boat owned by the Bedford & Milton Keynes Waterway Trust, enabled everyone to appreciate Bedford riverside from a different angle whilst enjoying their picnics. Certainly the most unusual sighting was a black swan, a species native to Australia, which was thought to have escaped from captivity.
Our thanks go to Rotarian John Moss for organising the event.
Rtn Mike Thomas, Club PR Officer
Thank you to Past-President Malcolm
Thank you to Malcolm (and Pam) for the wonderful hospitality on Sunday 21st July during your 'at home' party (a thank you to club members for their hard work during his presidential year). It was a very warm and pleasant afternoon with delicious food and good company; we all thoroughly enjoyed ourselves.
What a load of old rubbish!
We never knew rubbish could be so interesting! Thank you to Rtn Indra Patel for organising our tour on 3rd July 2013 around MK Recycling Centre in Old Wolverton, and for the delicious meal afterwards at Verandah Talk Restaurant.
The'Battle of Watling Street' cyclists reach Hanslope
The team from Colchester Forum Rotary Club reached Hanslope on 17th May 2013 on their epic Anglesey to Colchester charity cycle ride. And we were there to meet them at the Watts Arms in Hanslope as they stopped to have a well deserved lunch break. The cyclists, led by their club President Andrew Crayston, were raising money for the 'Rotary End Polio Now' campaign, and at the same time recognising the long forgotten Battle of Watling Street between the Romans and ancinet Brits.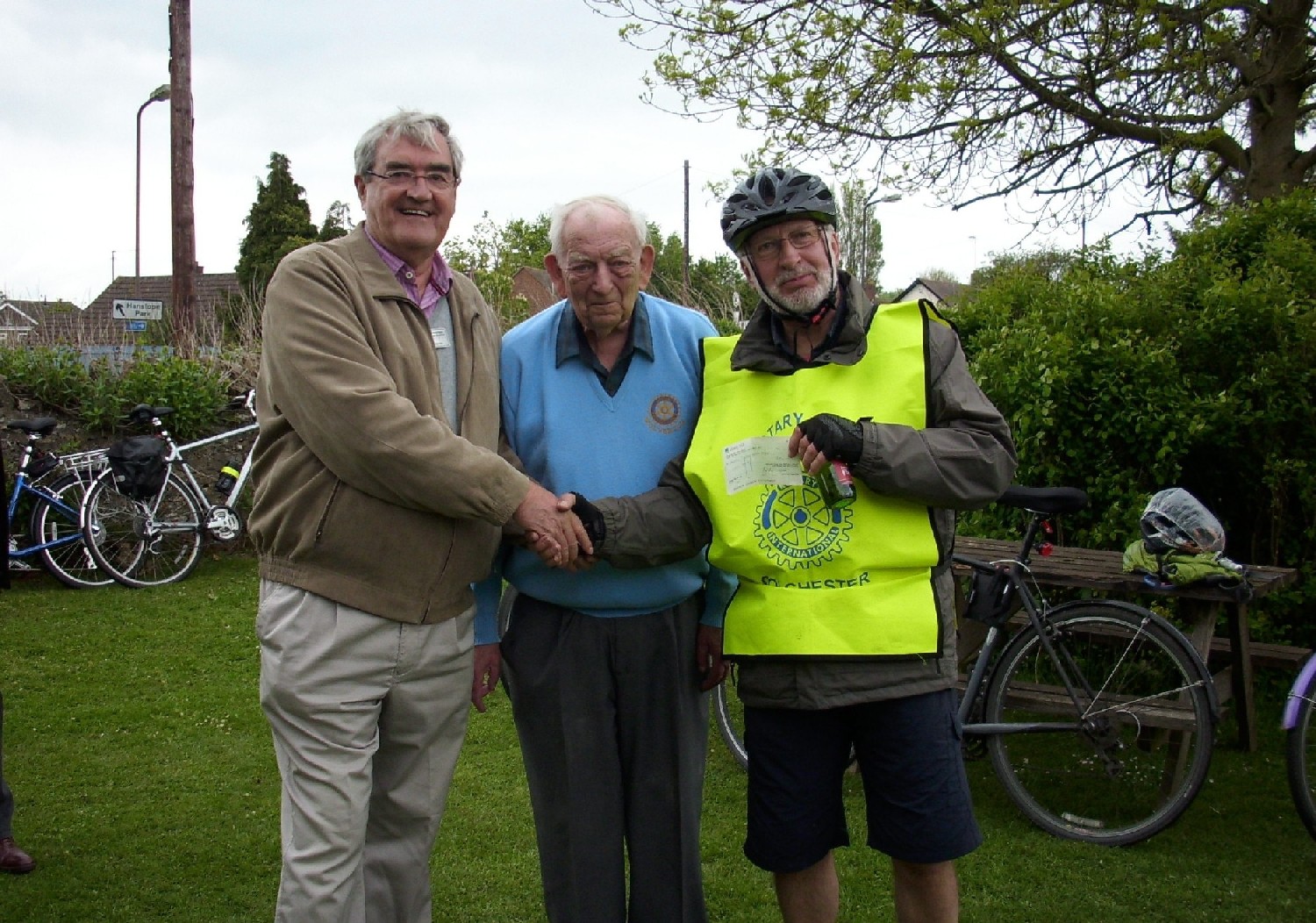 Pictured above is Vice-President Jim Barnes presenting a cheque to President Andrew Crayston of Colchester Forum Rotary Club, watched by Rtn Alan Harradine who organised our welcome party.
After an enjoyable lunch and much friendly fellowship the cyclists were soon on their way again.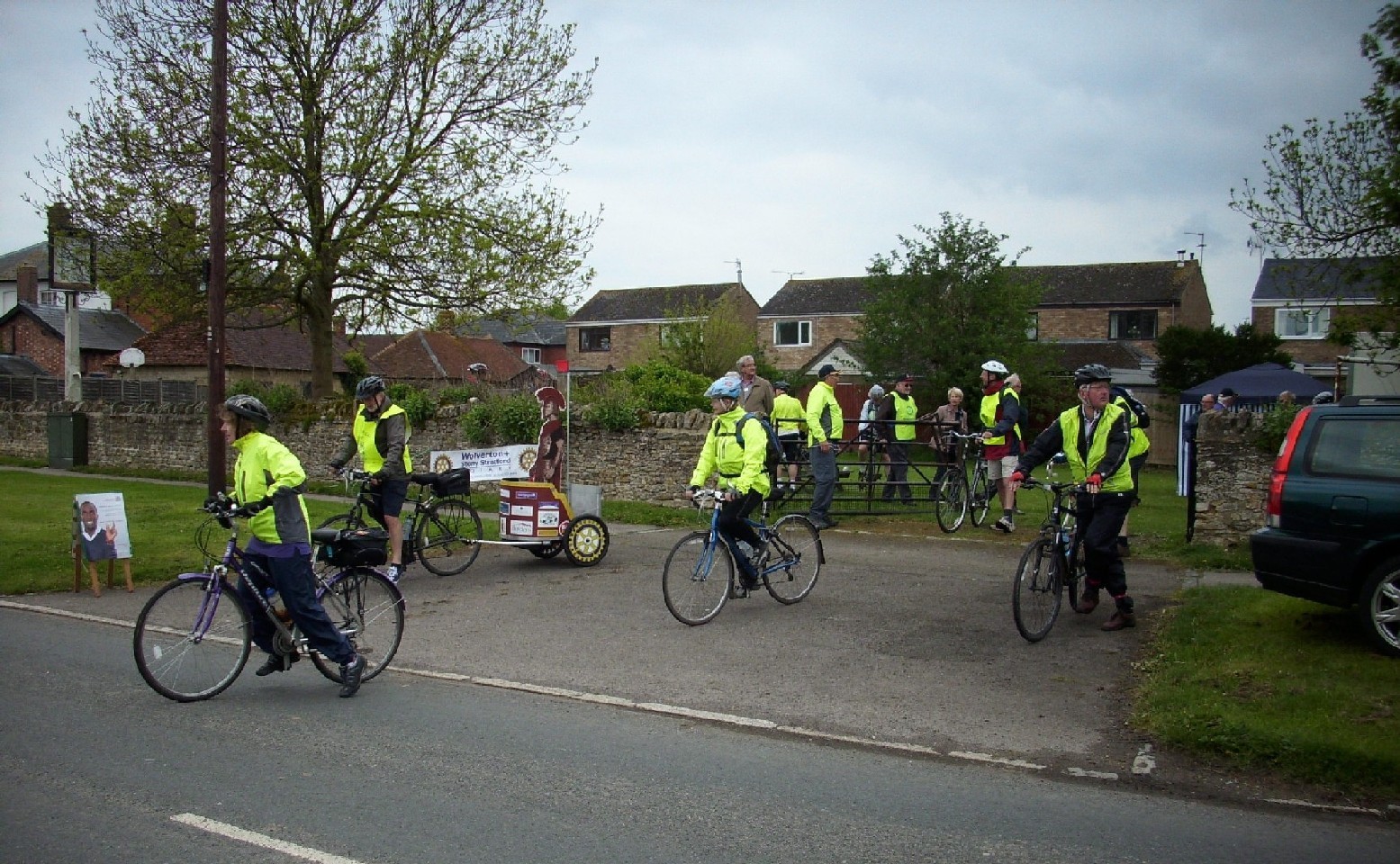 Local Rotarians make an Impact
The Bekash Restaurant in Stony Stratford was once again the venue for our special charity dinner. Some 55 people attended the evening in October 2012 which raised over £600 for the Impact Foundation. Impact is a charity that organises international programmes to prevent and alleviate needless disability, whether it be as a result of disease, lack of knowledge or shortage of medical services, for people in some of the poorest parts of the world.
The evening's guest was Mr John Lourie a local consultant orthopaedic surgeon and Impact supporter, who explained how he had been able to give freely of his time, surgical skills and expertise to help Impact's work in Bangladesh in a very practical way.
President Malcolm Poulter said "I am really pleased with the support the Club received for the event. We are especially grateful to Mr Abdul Murkit for his generosity in providing an excellent meal and once again helping the Club with its fundraising.
.
"This little piggy........"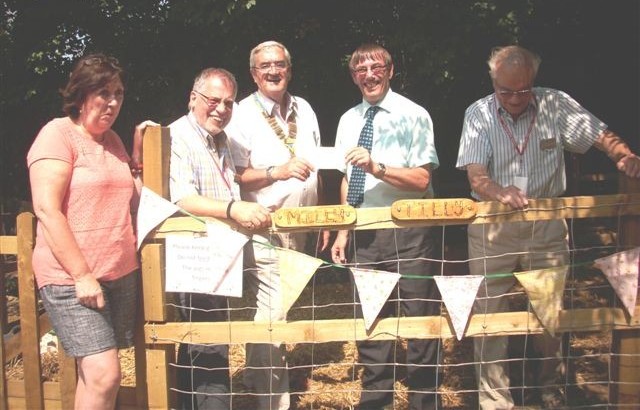 A very warm welcome, in every sense, awaited President Jim and three club members when they visited Slated Row School in Old Wolverton to present our cheque for £1,200. The visit on 18th July 2013, one of the hottest days of the year, was arranged as part of the children's special end of term 'Pig Party'.
"The children were truly wonderful, so happy and friendly, it was a real pleasure to meet them and the staff", commented Jim. "Unfortunately I didn't hit it off quite so well with Milly and Tilly, the two recently acquired young miniature Kunekune pigs whose enclosure was funded from part of our donation, the remaining money being used shortly to extend the pen and pay for additional fencing elsewhere in the school grounds".
Rtn Mike Thomas, Club PR Officer
Pictured above are Deputy Heads Brian Everest and Veronica Clayson receiving the cheque on behalf of the school from President Jim together with Rotarians Marcus and Robin.
Update 24th October
Milly and Tilly are now able to fully enjoy their newly extended enclosure at the school, thanks to the remainder of our donation, and teams of staff from Santander and Deloitte in Milton Keynes who kindly volunteered to complete the erection work.
Along with the school's other animals, the pigs are looked after by groups of sixth form pupils, and as one student commented "Milly and Tilly are really lovely and they always come to us when they know we have carrots for them!" President Jim added "It's really good to see how much enjoyment the students get from caring for the animals; this is a wonderful example of Rotary helping the local community and my club has been delighted to be able to support this project".
Pictured below is President Jim doing his best to attract Milly and Tilly with food whilst some of the students and Rotarians look on.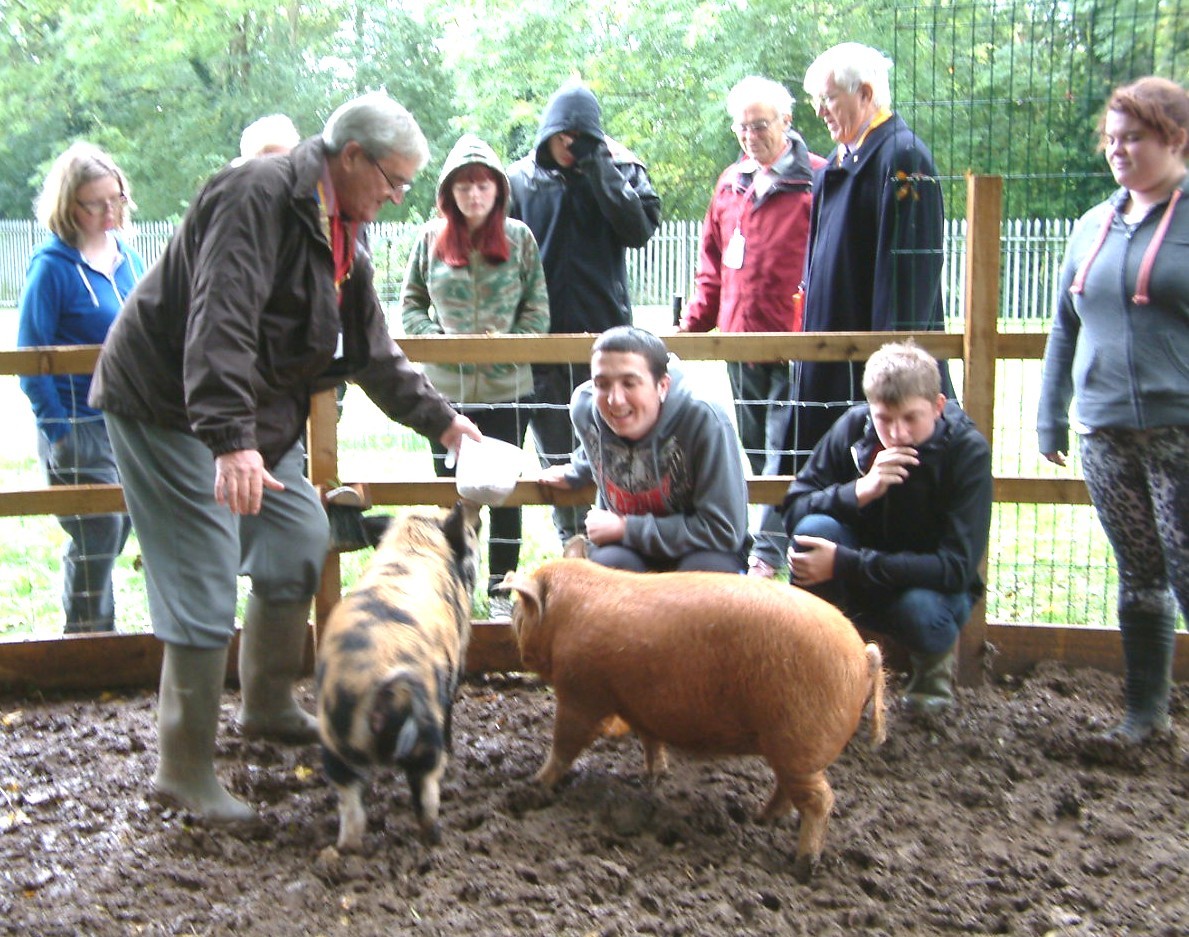 ...