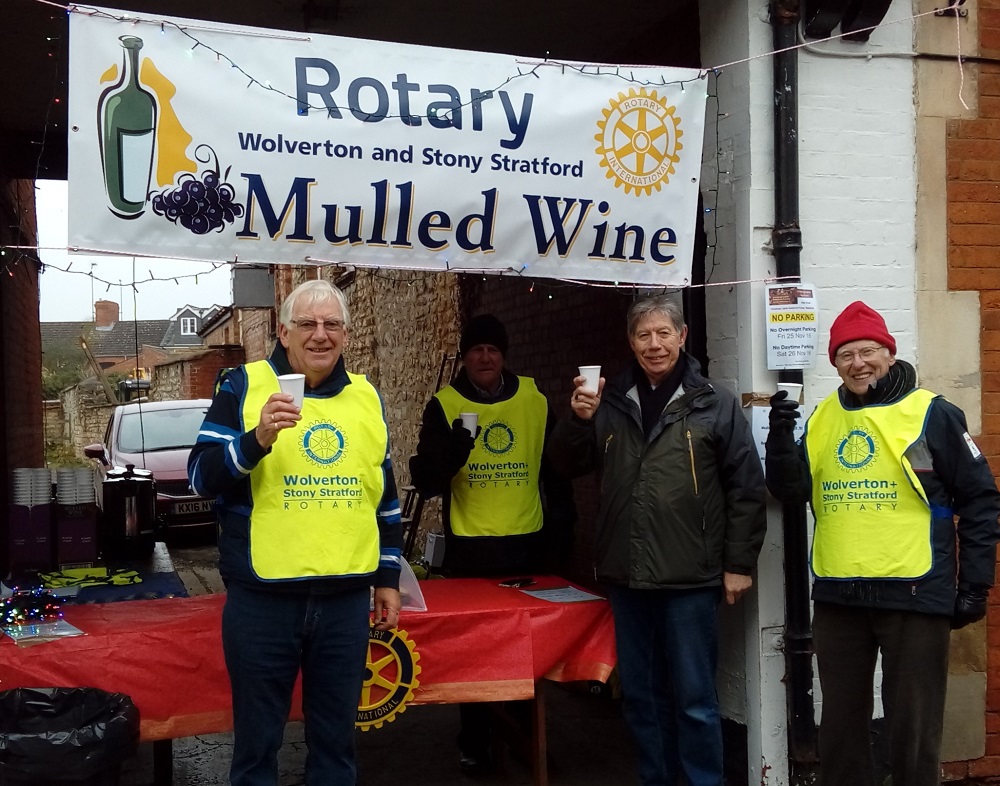 .
Warm Welcome at Stony Lights Fayre
We were rushed off our feet dispensing mulled wine and mince pies, plus the occasional shot of brandy, to the general public at the Christmas Lights Fayre in Stony Stratford on 26th November 2016. Thank you everyone for your fantastic support in particular Barry Love and his organising committee.
.
Handover to Marcus - July 2016
Pictured below is retiring President Ann Waters handing over the role of Club President to Marcus Rixon outside the club's meeting venue. President Marcus said how much he was looking forward to his year and continuing our service to the community both locally and through our international projects.
.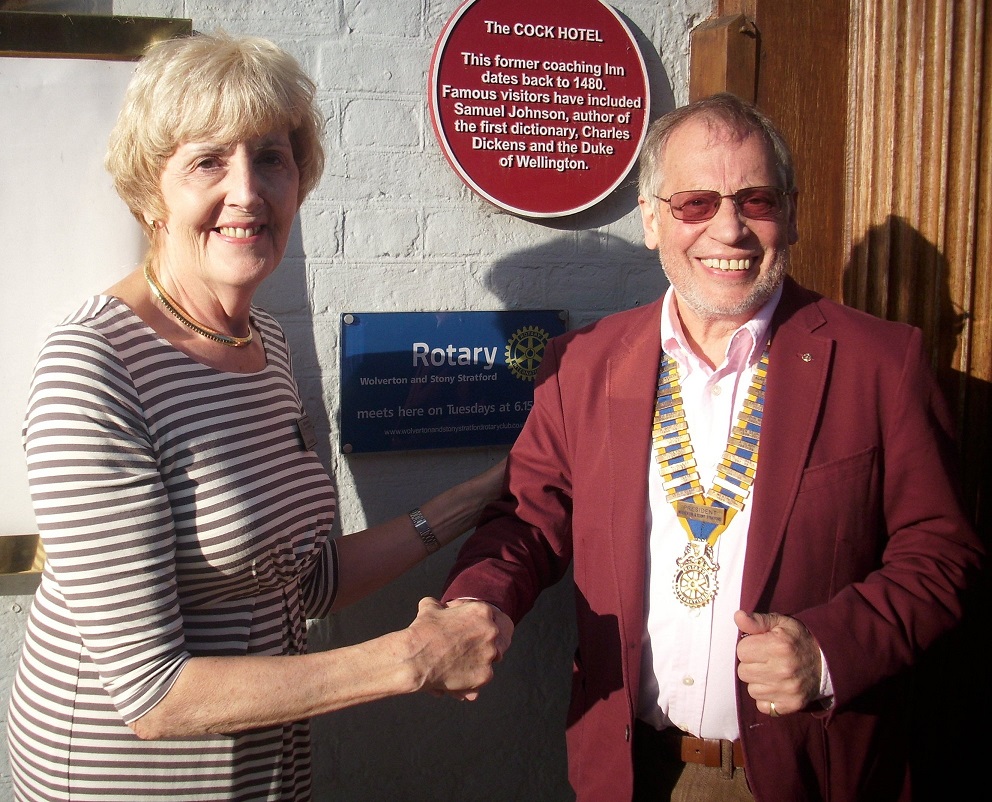 .
Annual Golf Day - 1st June 2016
Our ninth annual golf day held at Abbey Hill Golf Club on 1st June was a huge success with a record 18 teams competing. An enjoyable day's golf, despite the weather, spiced up with 'nearest pin' and 'longest drive' challenges to test our finest. Funds raised were in aid of four very deserving charities; Hope for Hollie Foundation, Kids Out Charity, Imogen Hannah Appeal and Growing People. Top prize went to the 'Neath Hill Fish & Chips' team. Thank you to organisers Malcolm Poulter & Jim Barnes, to everyone who helped on the day, to Abbey Hill Golf Club & our generous sponsors, and finally to all our golfers.
.
MK Schools' Young Musician Competition
Sarah Ikumu, vocalist from The Hazeley Academy, won the Milton Keynes Schools' Young Musican of the Year' competition held at Ousedale School on Tuesday 9th February 2016. Congatulations to Sarah and runners-up Rosia Li (piano) from Ousedale and Isabella Norwood (Cello) from Denbigh School who all went on to compete in the Rotary District 1260 finals on 28th February.
.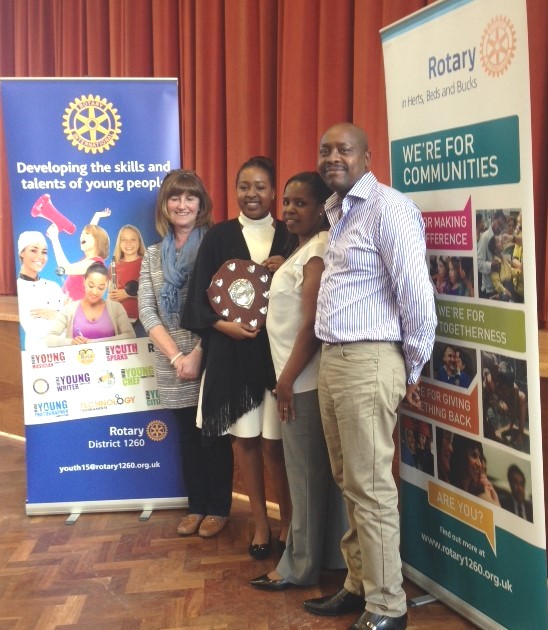 .
Pictured above is Sarah, with her proud parents Grace and Alex and her music teacher Dianne Weir, holding the MK Schools' Young Musician Winner's Shield.
.
District 1260 Young Musician Finals
Our club decided to sponsor Sarah Ikumu in her quest to go on and win the Rotary District Young Musician Finals. The two runner-up contestants from the Schools' Competition, who also went through to the next stage, were sponsored by other local Rotary clubs. On Sunday 28th February 2016 Sarah competed with 14 other contestants at the District Finals, held at Dr. Challonner's School in Little Chalfont, and came away with the ruuners-up prize in the Vocalist section. Sarah, together with three other contestants (winning vocalist and winner/runner-up instrumentalists), then went on to compete in the Rotary Regional Finals held in Dulwich on 20th March where she achieved second place. Congratulations to Sarah on her stunning performances.
Bekash Evening - October 2015
Over 40 guests attended our successful Bekash evening meal, which raised £484 for the Rotary Foundation charity. Thank you to all who supported the event, to our generous host Mr Mukit and to Indra and his International Committee.
.
We scooped top score in the Vote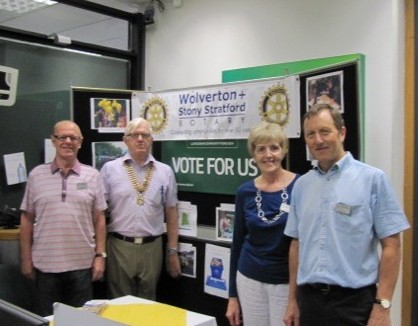 .
Pictured above was our stand in the Stony Stratford branch of Lloyds Bank as we launched our appeal for votes in the bank's 'Community Funds' appeal. Customers and the public alike were invited to choose their favourite charity from a shortlist of four by voting in branch, SMS texting and going on-line. We secured the most votes in very close competition with three other local charities. A cheque for £3,000 was received. Thank you very much to everyone who voted for us and thank you to Lloyds for their generous sponsorship. We were bowled over with the public response!
.
Stony Lights Fayre
.
Hot mulled pies, krispy wine and minced doughnuts raise over £500. Perhaps it was the novel way our Club plied its wares to an amused public at its stall at the Stony Stratford Christmas Lights Switch On (30th Nov. 2015), or maybe the public starting to get into the festive spirit despite a rather chiily day.
.
Whatever it was, the stall was a great success in making over £500 profit and ended up a complete sell-out just before darkness fell and the lights were switched on. Starting the day off with 84 bottles of mulled wine to sell in hot cups, some totting bottles of brandy and whisky plus several boxes of minced pies and Krispy Kreme doughnuts to sell seemed quite a daunting task, especially as business was slow at first. But rade soon picked up and by lunchtime it became a real job to keep up with demand. Our thanks to organiser Rtn Sue Curryer, Glen Cattermole, all our helpers and the general public for their support.
.
Philippines Typhoon Haiyan
.
In response to the terrible disaster of last year's typhoon (November 2013) we sent two disaster boxes (Aqua Box & Shelter Box) containing vital shelter and humanatarian items.
.
Supporting Aqua Box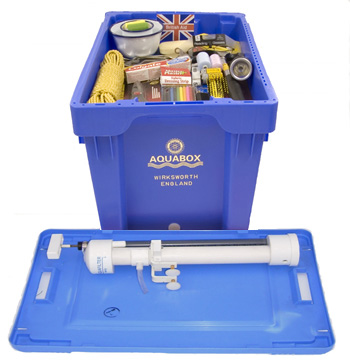 We have regularly supported 'Aqua Box'. a major disaster box relief charity which sends boxes worldwide in response to earthquakes, floods and refuge displacement.
.
Milton Keynes Foodbank
We regularly organise collections for Foodbank.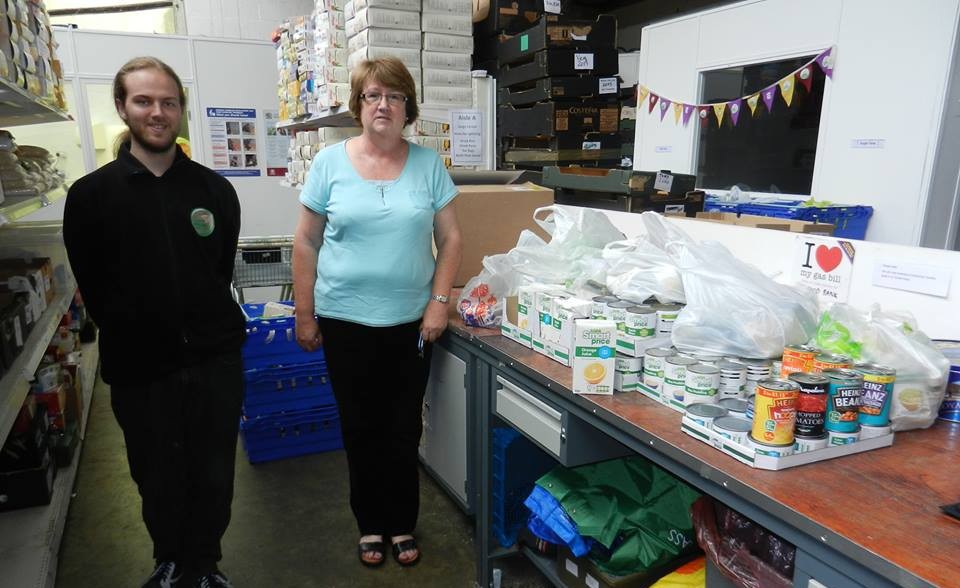 Rtn Sue Curryer pictured next to one of our collections.
.
Chinese Meal Evening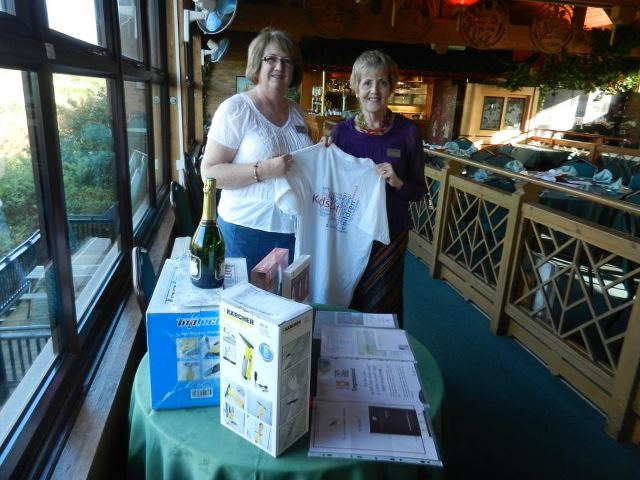 A brilliant night of fundraising at our second Kam Tong Chinese Restaurant event in April 2013. A total of £652 raised to support 'MK Act' and 'Kids Out'. It was lovely to see representatives from MK Act and Walnuts School as well as ex-Rotarians, friends of Rotary along with all our other guests.
Thank you to all who helped with organising the event, to local businesses for donating the wonderful prizes and to Kam Tong Restaurant for agreeing to run the event for us.
Pictured above are Rotarians Sue Curryer and Ann Waters in final preparations for the evening
Rotary Clubs of MK - Technology Tournament
Twenty teams from schools across Milton Keynes competed in the Rotary Technology Tournament in March 2013. An annual event, this year's contest was held at Denbigh School for the fourth year running.
The challenge, for the teams of four, was to construct a vehicle, from the materials provided, powered by a weight and capable of propelling itself a given distance up a sloping surface.
The tree winning teams were as follows:
Foundation Level - Radcliffe School
Intermediate Level - Oakgrove School
Advanced Level - Oakgrove School
Congratulations to all competing teams and the eventual winners in what proved to be an exciting contest. Thank you to the judges, event sponsors and our hosts for the day, Denbigh School.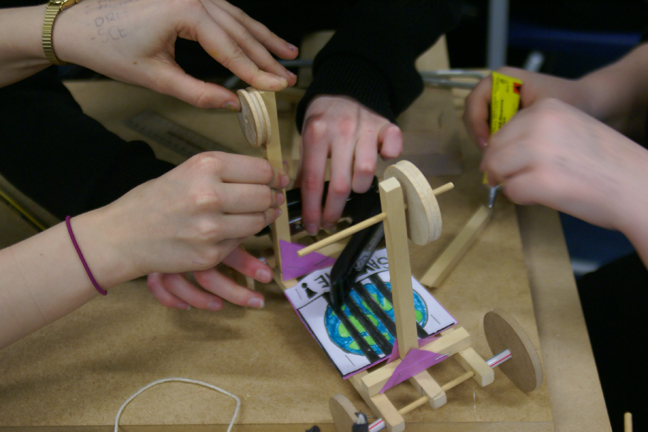 Many hands make light work. Pictured is one of the powered vehicles nearing completion (picture by courtesy of MK Rotary Club)
Schools in KwaZulu Natal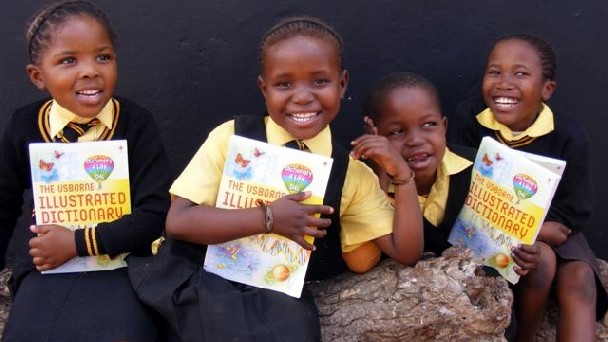 The new kitchen building at Ntabankulu Primary School funded by our £5.000 donation was completed in September 2011. Since then we have provided new equipment for the kitchen, with the support of Harpenden Rotary Club, and funded the tiling of the kitchen floor. These projects were inspected by a Club member in February 2013 (whilst on holiday) who reported that the School Principal was delighted with the improvements. A large number of books was also handed over to the students during this visit.
Young Musician of the Year Competition
The Milton Keynes Young Musician of the Year competition, now in its third year, took place in February 2013 at the Chrysalis Theatre.
Five students from the Milton Keynes Music Service participated, all of whom played an excellent standard of music. This made the job of the judges more difficult. This was a joint event supported by the six Rotary clubs in the Milton Keynes area.
The winner was flutist James Westlake and runner-up was pianist Joseph Hyde. Congratulations to the winners and all the participants for reaching the local finals.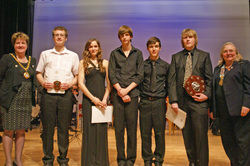 Pictured are the finalists with the Mayor of Milton Keynes, Clr Catriona Morris and Rotary District Governor Debbie Hodge