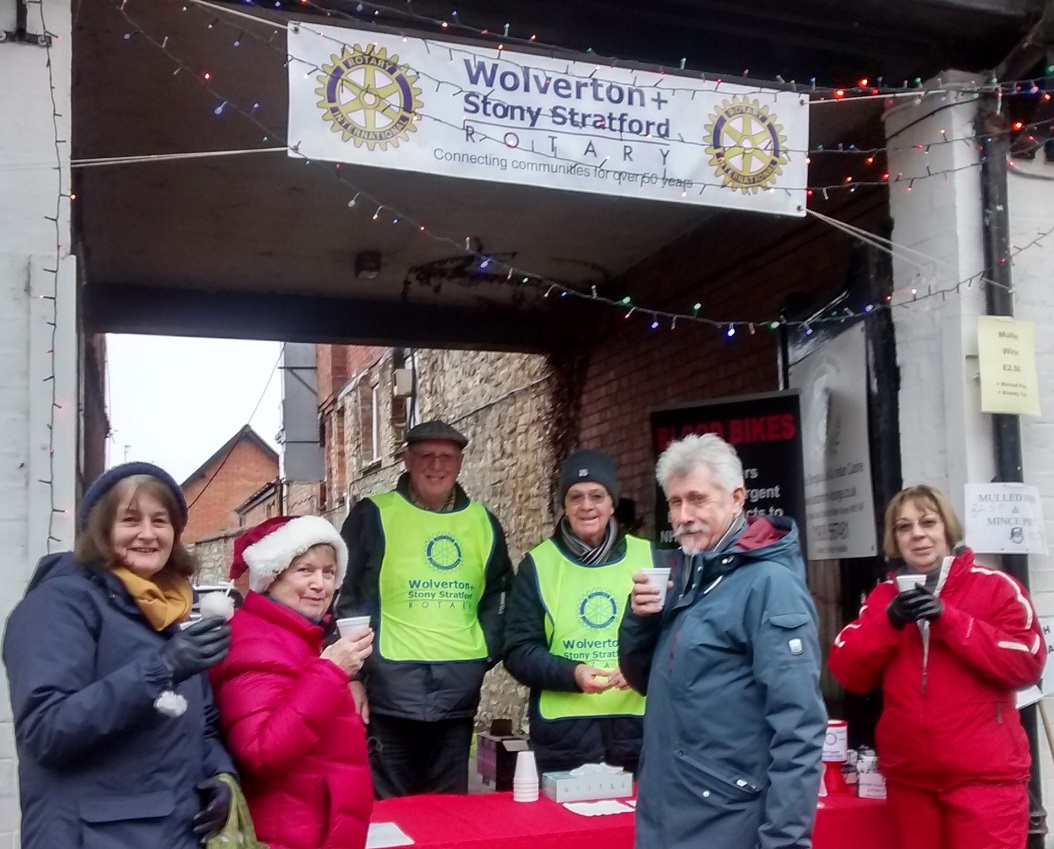 .
Drinks Galore at Stony Lights Fayre
.
We were rushed off our feet dispensing warming mulled wine and delicious mince pies at our stall at the Stony Stratford Christmas Lights Fayre on 2nd December 2017. Thank you to Alan Swann and his organising committee, to all our helpers on the day and last but not least to the general public for their wonderful support.
.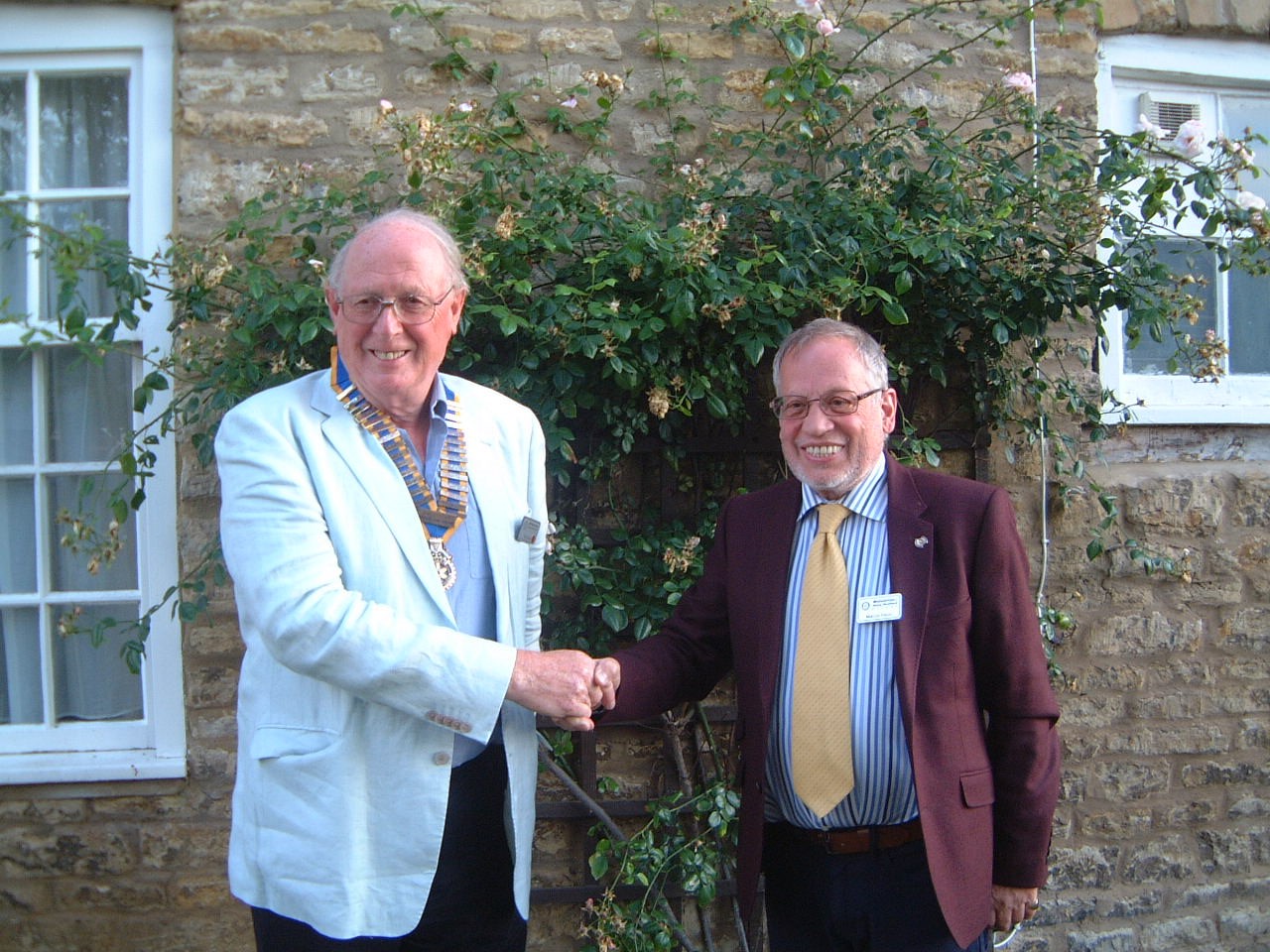 .
New Club President
.
Tom Green has been elected as the new Club President for 2017/18. He takes over from last year's President, Marcus Rixon.
.
It's been another very busy year for the club, which has included the provision of a new sensory room at Walnuts Care in Galley Hill, our annual charity Golf Day and Christmas float collections, and the installation of a new defibrillator in Stony Stratford" commented Marcus as he handed over the chain of office to incoming President Tom.
.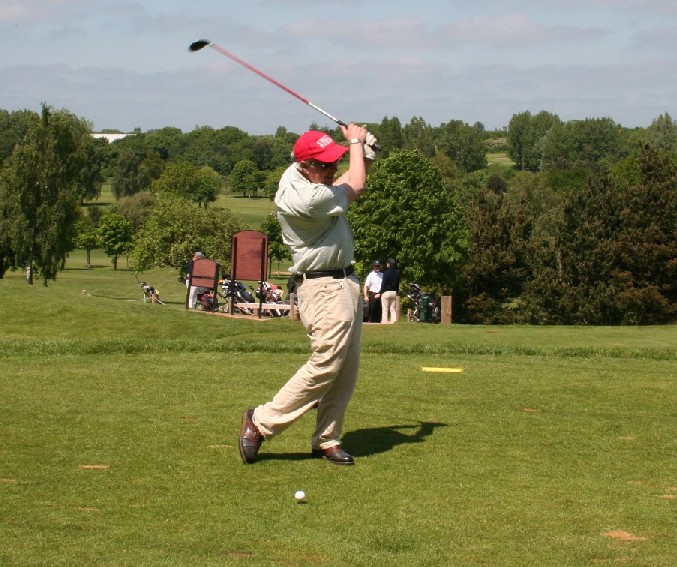 .
Annual Golf Day - Wed. 7th June 2017
.
When Wolverton & Stony Stratford Rotary Club held its 10th annual charity golf day at Abbey Hill Golf Club in Milton Keynes it was a day of mixed emotions for many in that its founder and organiser over the past nine years, Rotarian Malcom Poulter, had sadly passed away earlier in the year and so the day was designated as a special testimonial to Malcom for all his hard work and dedication over the years.
.
Fortunately this year the sun shone for the 17 teams playing and, together with sponsorship, the day was expected to raise a total of £4,500. A significant proportion of this sum will be allocated to the club's current project to raise £14,500 for a specially equipped motorcycle for the local branch of SERV (Service by Emergency Rider Volunteers) who deliver blood and other medical items out of hours around the country.
.
Commenting on the day, Rotarian Jim Barnes said "through Malcolm, our charity Golf Day has become a very well-supported regular feature in our club calendar and I am so pleased that it was his family's wish that not only should we continue holding the event this year as a fitting tribute to Malcolm but that they also wished to actively help on the day, for which we are hugely appreciative. Our thanks also go to all the players and our sponsors for their support in making the day such a success".
.
The winning team, 'The Normans', were awarded the Roger Borley Cup and the best Rotary team, 'Swanning Around', were awarded the Malcolm Poulter Memorial Cup. Thank you to all players, event sponsors, helpers on the day, Abbey Hill Golf Club and last but not least event organiser Jim Barnes.
.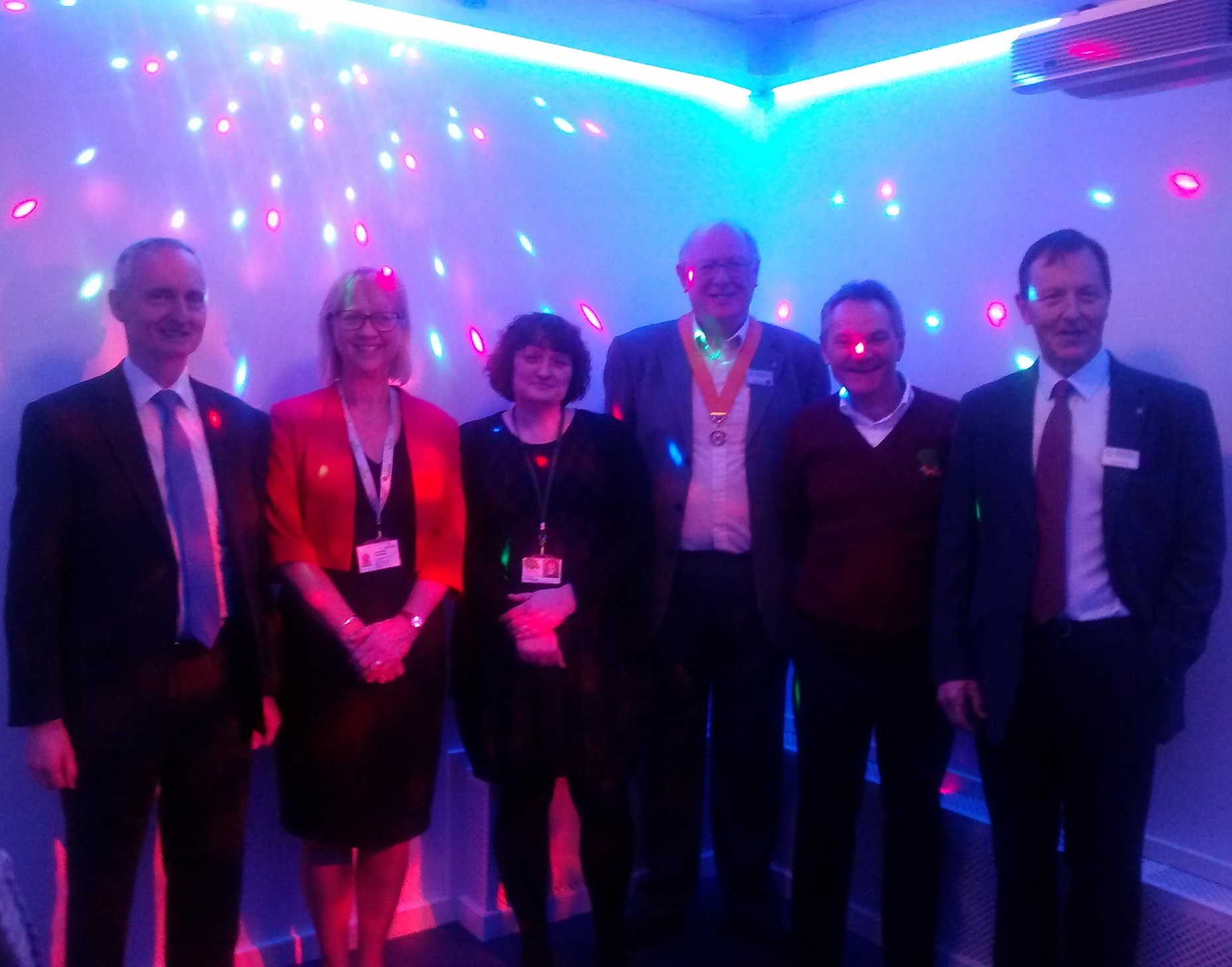 .
New Sensory Room at Walnuts Care
.
A new Sensory Room at Walnuts Care in Galley Hill was officially opened by Milton Keynes Councillor Zoe Nolan, Cabinet member responsible for Children and Families on 16th January 2017.
.
Brimming full of the latest computerised sound and vision technology the specially converted room has been jointly funded by Wolverton & Stony Stratford Rotary Club and the Kids Out charity. Jerry Aldous Manager of Walnuts Care said "We are extremely grateful to the Rotary club and Kids Out; this room is a wonderful addition to our facilities which will enhance the range of services we provide and the experiences of the children and young people we support".
.
Organiser of the project to fund the new room, Chris Byard, said "I am very grateful for the huge support from the Rotary club over the past year. The money was raised from a very varied selection of sources including games night, golf day, district grant, carol service, Christmas float collections, grand autumn prize draw and car boot & internet sales of donated goods. This project will enormously help disadvantaged youngsters to get a better start in life".
.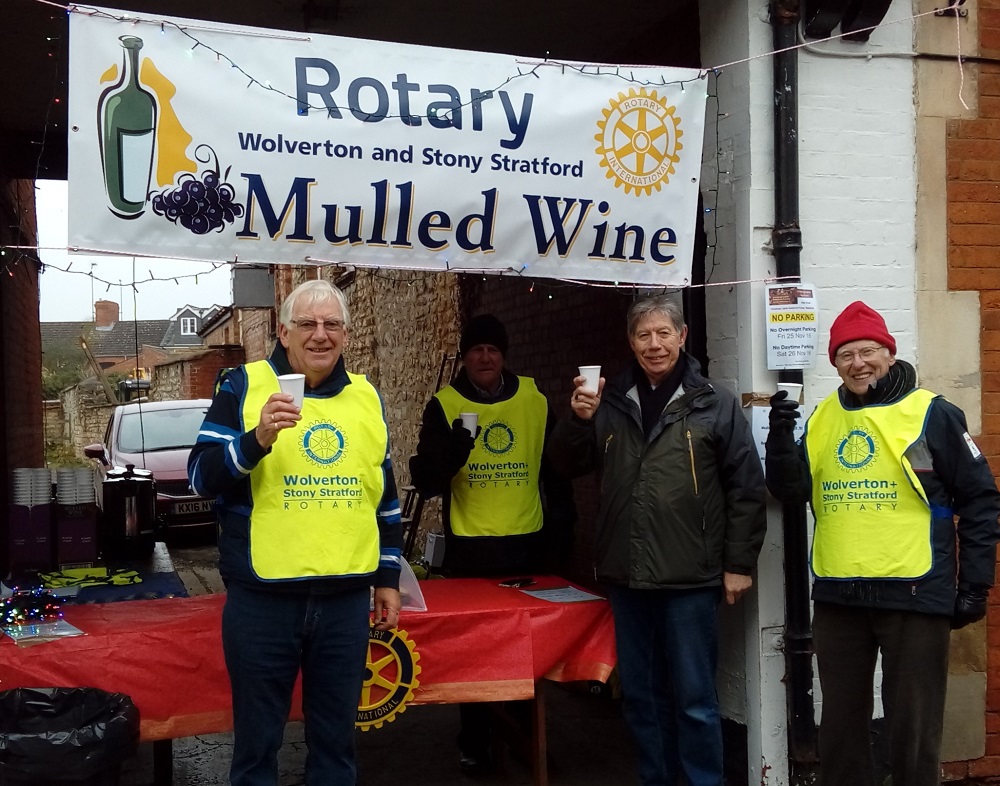 .
Warm Welcome at Stony Lights Fayre
We were rushed off our feet dispensing mulled wine and mince pies, plus the occasional shot of brandy, to the general public at the Christmas Lights Fayre in Stony Stratford on 26th November 2016. Thank you everyone for your fantastic support in particular Barry Love and his organising committee.
.
Handover to Marcus - July 2016
Pictured below is retiring President Ann Waters handing over the role of Club President to Marcus Rixon outside the club's meeting venue. President Marcus said how much he was looking forward to his year and continuing our service to the community both locally and through our international projects.
.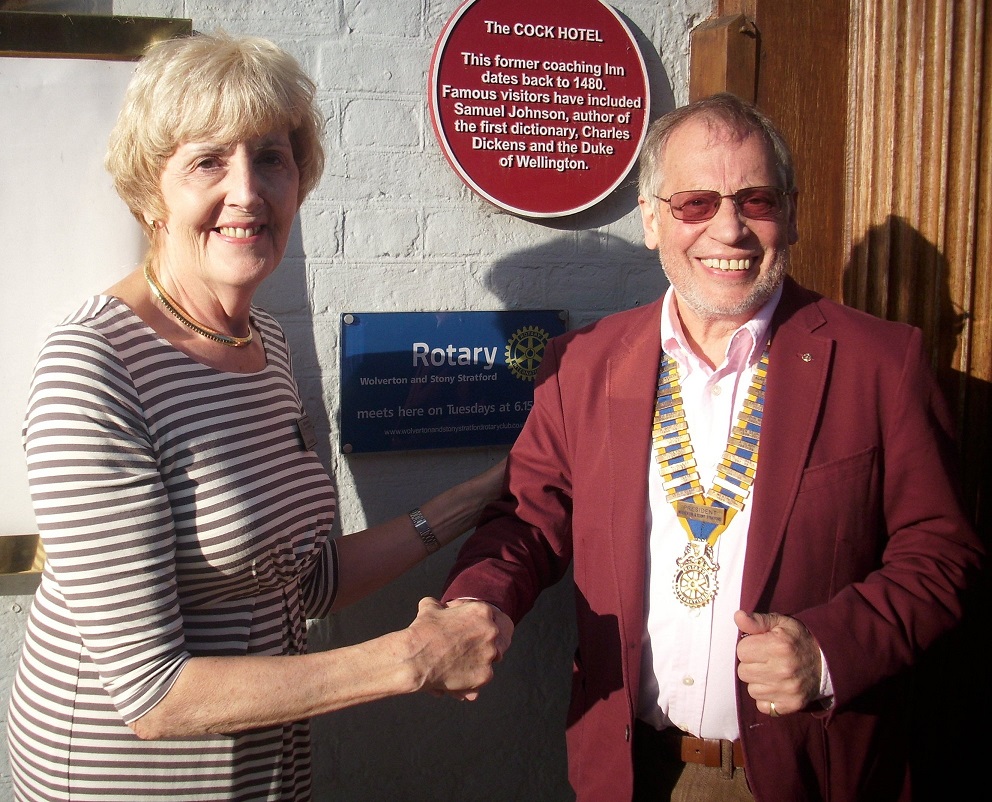 .
Annual Golf Day - 1st June 2016
Our ninth annual golf day held at Abbey Hill Golf Club on 1st June was a huge success with a record 18 teams competing. An enjoyable day's golf, despite the weather, spiced up with 'nearest pin' and 'longest drive' challenges to test our finest. Funds raised were in aid of four very deserving charities; Hope for Hollie Foundation, Kids Out Charity, Imogen Hannah Appeal and Growing People. Top prize went to the 'Neath Hill Fish & Chips' team. Thank you to organisers Malcolm Poulter & Jim Barnes, to everyone who helped on the day, to Abbey Hill Golf Club & our generous sponsors, and finally to all our golfers.
.
MK Schools' Young Musician Competition
Sarah Ikumu, vocalist from The Hazeley Academy, won the Milton Keynes Schools' Young Musican of the Year' competition held at Ousedale School on Tuesday 9th February 2016. Congatulations to Sarah and runners-up Rosia Li (piano) from Ousedale and Isabella Norwood (Cello) from Denbigh School who all went on to compete in the Rotary District 1260 finals on 28th February.
.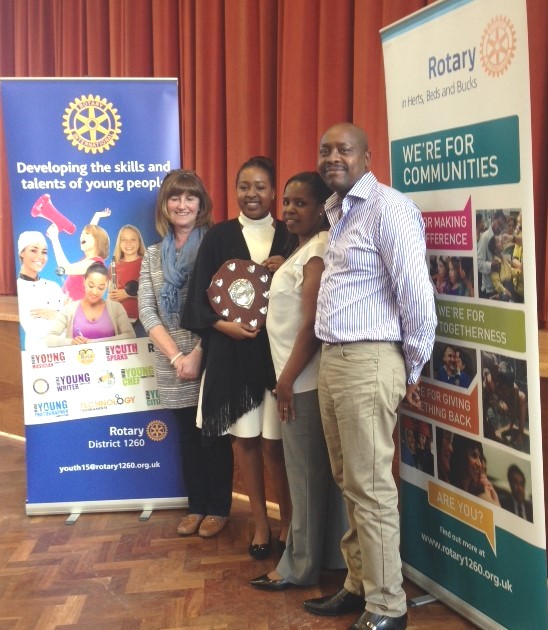 .
Pictured above is Sarah, with her proud parents Grace and Alex and her music teacher Dianne Weir, holding the MK Schools' Young Musician Winner's Shield.
.
District 1260 Young Musician Finals
Our club decided to sponsor Sarah Ikumu in her quest to go on and win the Rotary District Young Musician Finals. The two runner-up contestants from the Schools' Competition, who also went through to the next stage, were sponsored by other local Rotary clubs. On Sunday 28th February 2016 Sarah competed with 14 other contestants at the District Finals, held at Dr. Challonner's School in Little Chalfont, and came away with the ruuners-up prize in the Vocalist section. Sarah, together with three other contestants (winning vocalist and winner/runner-up instrumentalists), then went on to compete in the Rotary Regional Finals held in Dulwich on 20th March where she achieved second place. Congratulations to Sarah on her stunning performances.
.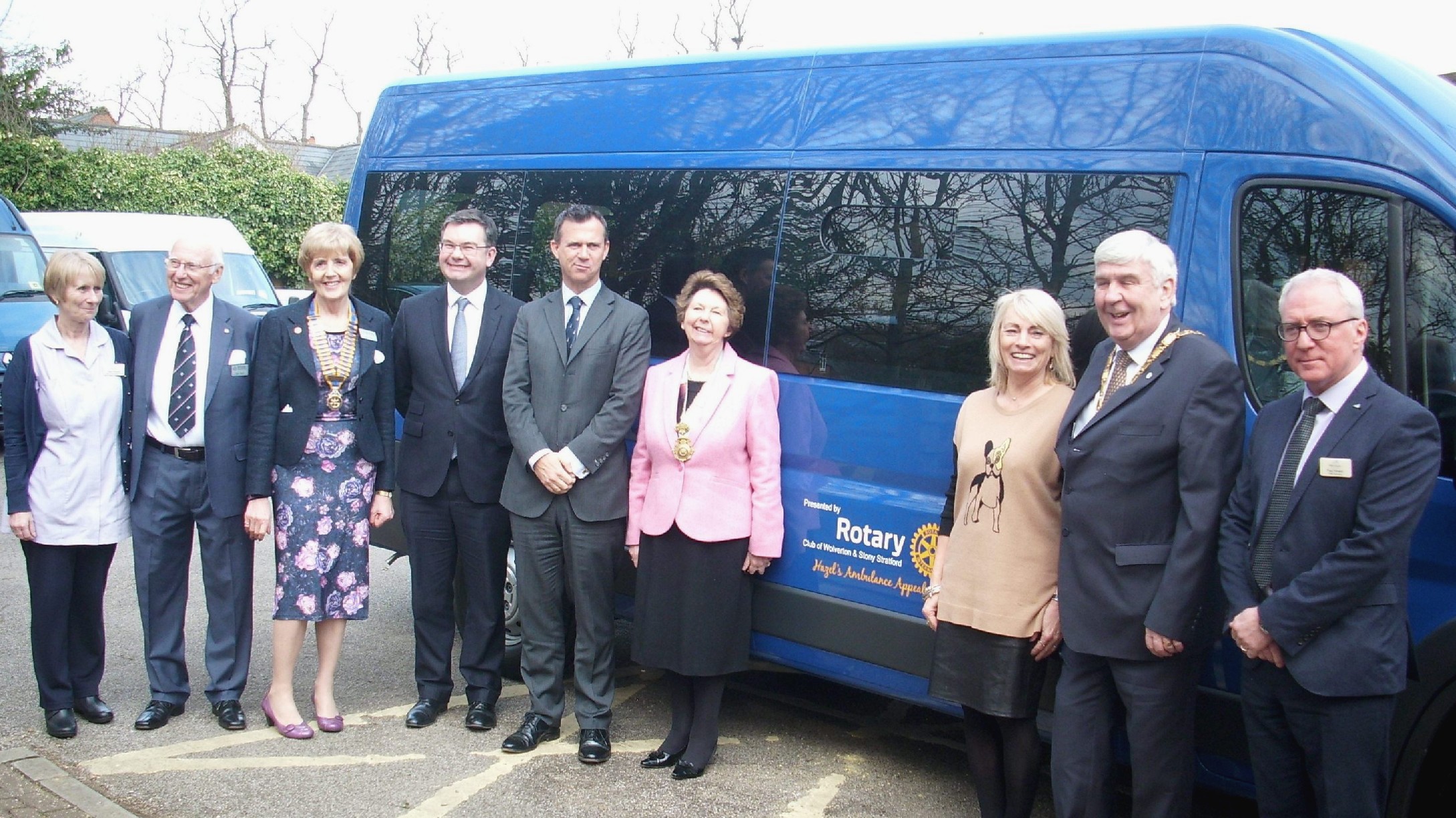 .
Hazel's Ambulance Appeal
Over sixty club members, friends, hospice staff and distinguished guests, including MP's Iain Stewart and Mark Lancaster, Milton Keynes Mayor Councillor Keith McLean and Rotary District Governor Prue Dixon, assembled at Willen Hospice's Wellbeing Centre on Friday 26th February 2016 for the handing over of a brand new ambulance. This was the culmination of our year-long fundraising project in memory of Rotarian Brian Stuart's wife, Hazel, who passed away at the hospice in November 2014.
.
Brian commented "My family and I wanted to do something really special for the hospice and I was so pleased when my fellow Rotarians all agreed that buying a new ambulance for Willen would be a great project, albeit a very challenging one for a club of our size. It has taken just over a year to reach our target of £34,000 through numerous fundraising events and donations. We are extremely grateful for all the help and support received in making this possible".
.
Responding to Brian, Paul Hinson, the hospice's Chief Executive, said "This is a marvellous achievement and I congratulate the Rotary club on all its efforts and dedication to this project. The new minibus will be a fitting and timely replacement for our existing vehicle and will enable us to continue providing an important transport service for the patients who would otherwise have difficulty in getting to and from our Wellbeing Centre, for the various day care facilities we provide".
.
Read all about Rotarian Brian's amazing story in strarting off this project, successfully raising over £7,000, before his Rotary Club adopted and officially took the appeal under its wings with fundraising ventures throughout 2015. For the full story visit:
http://wolvertonandstonystratfordrotaryclub.co.uk/page12.html
.
LATEST NEWS FROM WILLEN
Helen and Bob from Willen talk about their new ambulance. Go to:
https://www.youtube.com/watch?v=BF3yRFdPB7E
.
Bekash Evening - October 2015
Over 40 guests attended our successful Bekash evening meal, which raised £484 for the Rotary Foundation charity. Thank you to all who supported the event, to our generous host Mr Mukit and to Indra and his International Committee.
.
We scooped top score in the Vote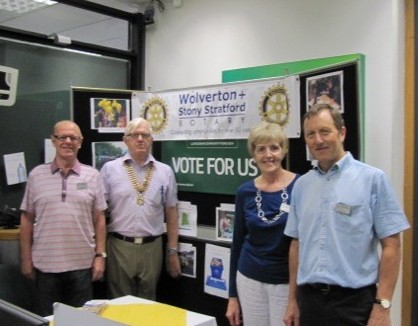 .
Pictured above was our stand in the Stony Stratford branch of Lloyds Bank as we launched our appeal for votes in the bank's 'Community Funds' appeal. Customers and the public alike were invited to choose their favourite charity from a shortlist of four by voting in branch, SMS texting and going on-line. We secured the most votes in very close competition with three other local charities. A cheque for £3,000 was received. Thank you very much to everyone who voted for us and thank you to Lloyds for their generous sponsorship. We were bowled over with the public response!
.
Stony Lights Fayre
.
Hot mulled pies, krispy wine and minced doughnuts raise over £500. Perhaps it was the novel way our Club plied its wares to an amused public at its stall at the Stony Stratford Christmas Lights Switch On (30th Nov. 2015), or maybe the public starting to get into the festive spirit despite a rather chiily day.
.
Whatever it was, the stall was a great success in making over £500 profit and ended up a complete sell-out just before darkness fell and the lights were switched on. Starting the day off with 84 bottles of mulled wine to sell in hot cups, some totting bottles of brandy and whisky plus several boxes of minced pies and Krispy Kreme doughnuts to sell seemed quite a daunting task, especially as business was slow at first. But rade soon picked up and by lunchtime it became a real job to keep up with demand. Our thanks to organiser Rtn Sue Curryer, Glen Cattermole, all our helpers and the general public for their support.
.
Philippines Typhoon Haiyan
.
In response to the terrible disaster of last year's typhoon (November 2013) we sent two disaster boxes (Aqua Box & Shelter Box) containing vital shelter and humanatarian items.
.
Supporting Aqua Box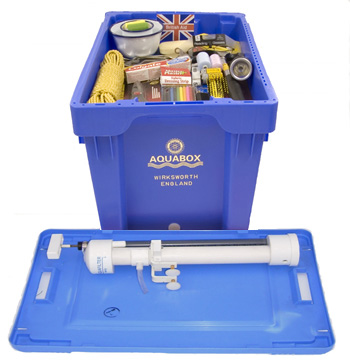 We have regularly supported 'Aqua Box'. a major disaster box relief charity which sends boxes worldwide in response to earthquakes, floods and refuge displacement.
.
Milton Keynes Foodbank
We regularly organise collections for Foodbank.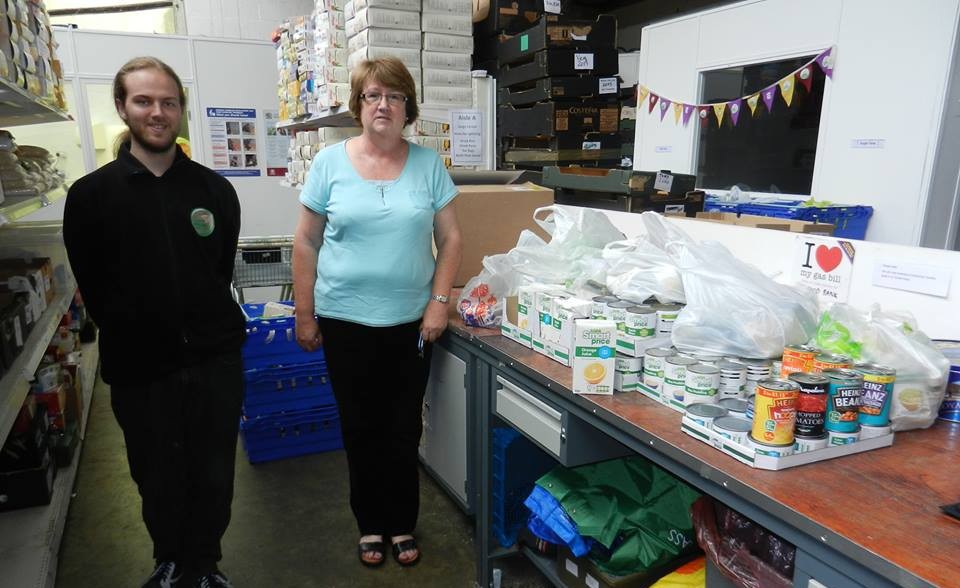 Rtn Sue Curryer pictured next to one of our collections.
.
Chinese Meal Evening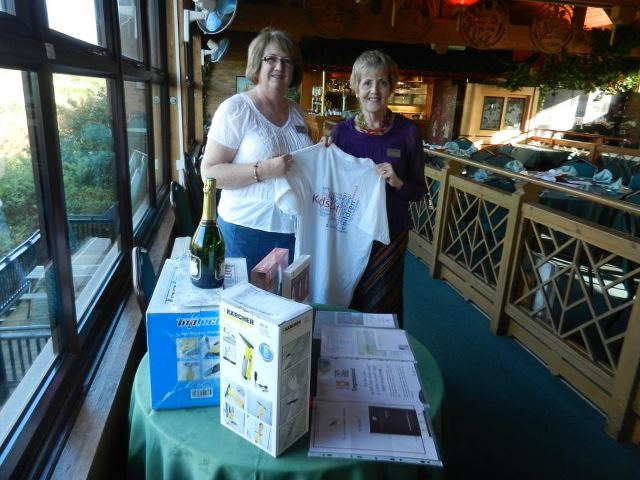 A brilliant night of fundraising at our second Kam Tong Chinese Restaurant event in April 2013. A total of £652 raised to support 'MK Act' and 'Kids Out'. It was lovely to see representatives from MK Act and Walnuts School as well as ex-Rotarians, friends of Rotary along with all our other guests.
Thank you to all who helped with organising the event, to local businesses for donating the wonderful prizes and to Kam Tong Restaurant for agreeing to run the event for us.
Pictured above are Rotarians Sue Curryer and Ann Waters in final preparations for the evening
Rotary Clubs of MK - Technology Tournament
Twenty teams from schools across Milton Keynes competed in the Rotary Technology Tournament in March 2013. An annual event, this year's contest was held at Denbigh School for the fourth year running.
The challenge, for the teams of four, was to construct a vehicle, from the materials provided, powered by a weight and capable of propelling itself a given distance up a sloping surface.
The tree winning teams were as follows:
Foundation Level - Radcliffe School
Intermediate Level - Oakgrove School
Advanced Level - Oakgrove School
Congratulations to all competing teams and the eventual winners in what proved to be an exciting contest. Thank you to the judges, event sponsors and our hosts for the day, Denbigh School.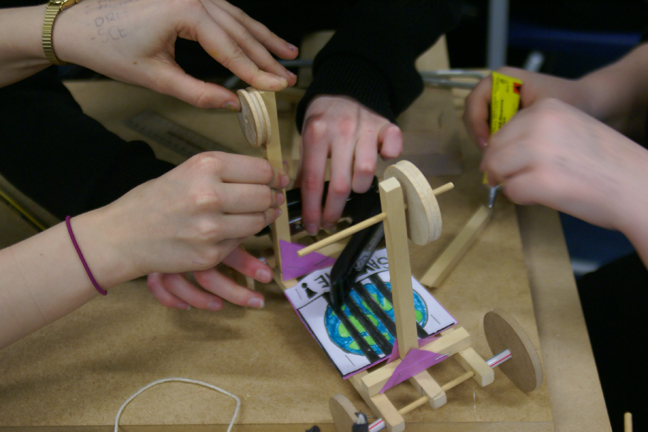 Many hands make light work. Pictured is one of the powered vehicles nearing completion (picture by courtesy of MK Rotary Club)
Schools in KwaZulu Natal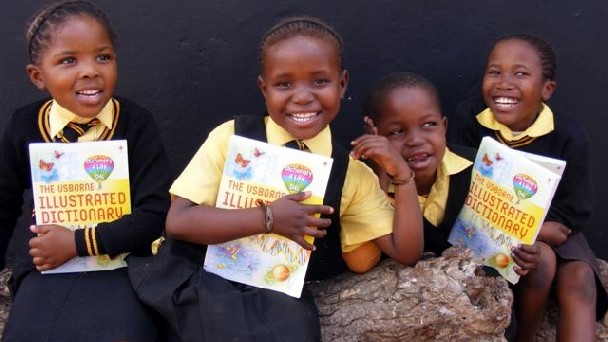 The new kitchen building at Ntabankulu Primary School funded by our £5.000 donation was completed in September 2011. Since then we have provided new equipment for the kitchen, with the support of Harpenden Rotary Club, and funded the tiling of the kitchen floor. These projects were inspected by a Club member in February 2013 (whilst on holiday) who reported that the School Principal was delighted with the improvements. A large number of books was also handed over to the students during this visit.
Young Musician of the Year Competition
The Milton Keynes Young Musician of the Year competition, now in its third year, took place in February 2013 at the Chrysalis Theatre.
Five students from the Milton Keynes Music Service participated, all of whom played an excellent standard of music. This made the job of the judges more difficult. This was a joint event supported by the six Rotary clubs in the Milton Keynes area.
The winner was flutist James Westlake and runner-up was pianist Joseph Hyde. Congratulations to the winners and all the participants for reaching the local finals.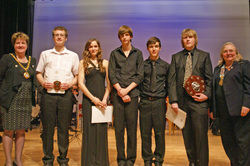 Pictured are the finalists with the Mayor of Milton Keynes, Clr Catriona Morris and Rotary District Governor Debbie Hodge