.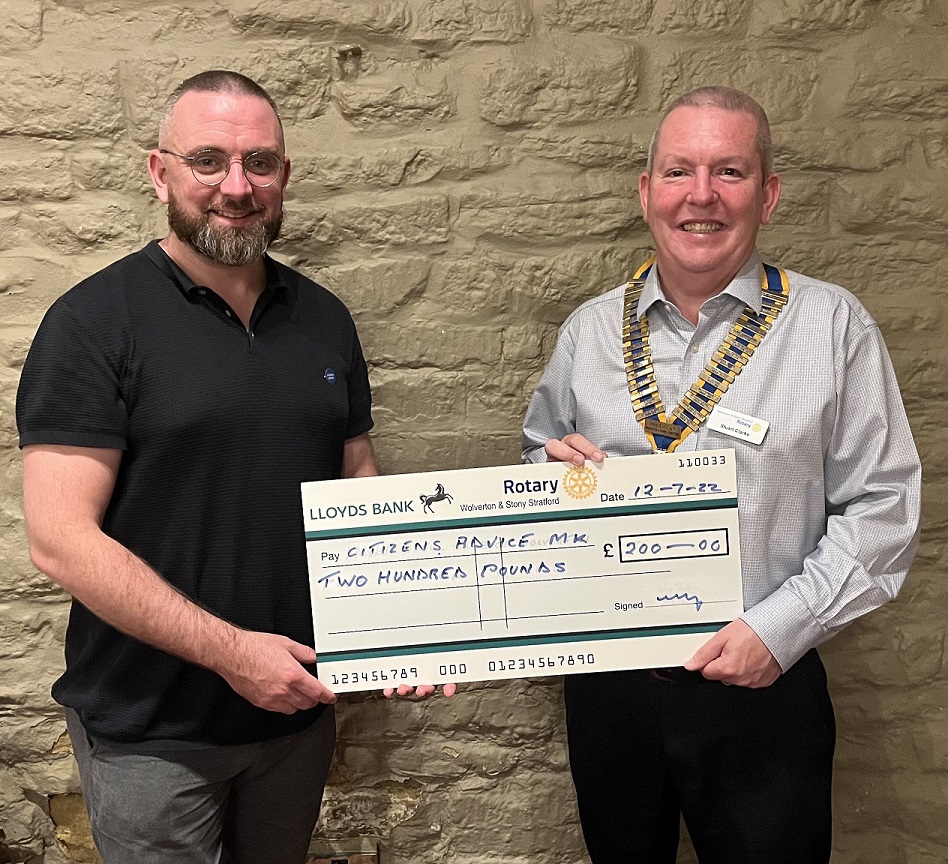 .
Citizens Advice MK
.
Pictured above is Citizens Advice Milton Keynes' Director Ben Thomas receiving a donation of £200 from President Stuart on 12th July. This important service is particularly needed at present, and many do not realise it is a charity and one that Rotary is very pleased to support.
.
Other News
.
We were very pleased to play a small part in Milton Keynes Grand Union Rotary Club's marshalling of mile 7 of the MK Midnight Moo event last night (Friday 15th July) and supporting all those lovely walkers raising funds for Willen Hospice; it was a lovely experience.
.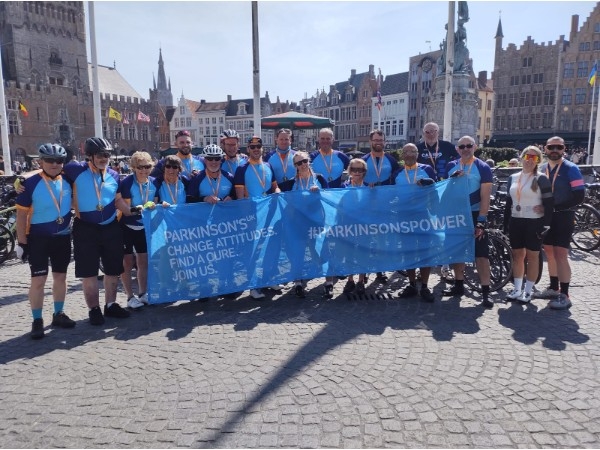 .
Well done Andrew
.
Well done to Rotarian Andrew Hulme who recently completed an epic sponsored cycle ride from London to Bruges in three days. He has raised a whopping £8.500 for Parkinson's UK which will help fund research into developing treatments for this condition.
.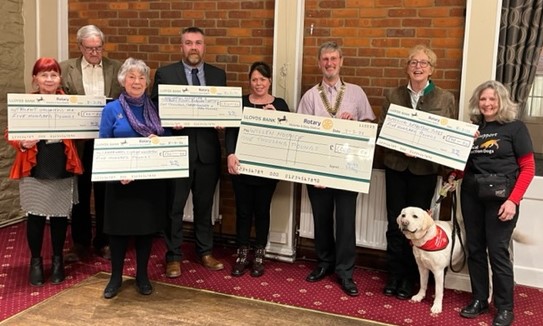 .
Cheques' Presentation Evening
.
A very enjoyable event yesterday evening (8th March) when we handed out cheques to some of the main beneficiaries of our Christmas Float collections. The recipient charities on the evening were Willen Hospice, Talent Unlimited MK, Inner Wheel Club of Wolverton, Medical Detection Dogs and Wolverton/Hodge Lea and Stacey Bushes Jubilee Parties Fund. A huge thank you to everyone who helped with the collections and the general public for giving so generously.
.

.
Do you want to raise a free donation for Wolverton & Stony Stratford Rotary when you buy something on line?
.
There are nearly 5,000 retailers including Amazon, John Lewis, eBay, Booking.com and Sainsbury's, ready to give a free donation every time you shop. It's really simple, and doesn't cost you anything extra. All you have to do is:
1. Go to: http://www.easyfundraising.org.uk/causes/rcwss
2. Click Join Us and enter your details and click on Create My Account
3. Choose from nearly 5.000 retailers, do your shopping as normal and our Rotary Club will receive a free donation at no extra cost to you for every purchase you make
Thank you for your support, you'll be helping to make a real difference to Wolverton & Stony Stratford Rotary.
.
Welcome on board our two new supporters, Andrew and Rachael, who have signed up to help us by shopping via the 'easy fundraising' website
.
Googling? Try the search engine 'easysearch' instead and raise even more money for Wolverton & Stony Stratford Rotary
Visit http://www.easysearch.org.uk
.
.
.
.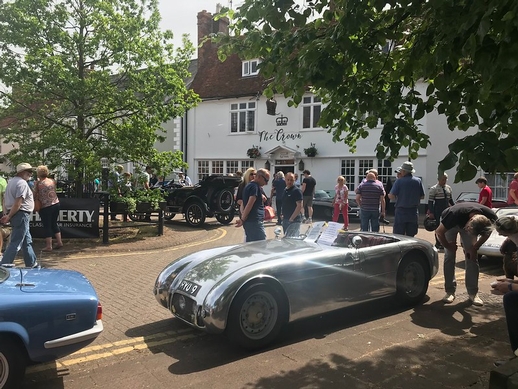 .
Photo reproduced with kind permission of Stony Classic
.
Stony Classic Car Show 29th August
.
We were pleased to give some assistance to the organisers of this year's classic car show by helping to set up equipment in the market square (a nice early start for some, 7.30am!)
.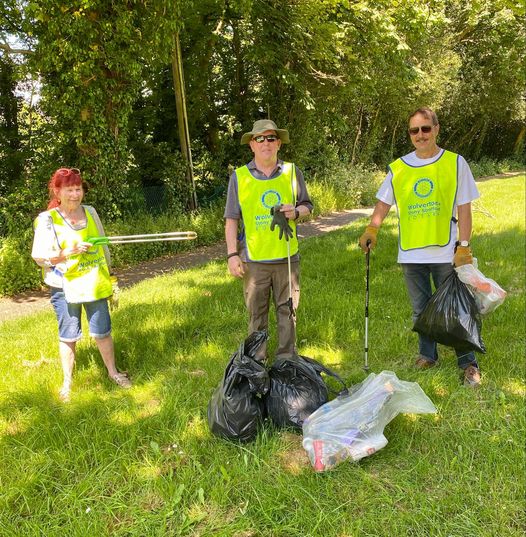 .
Keep Britain Tidy Campaign
.
Out collecting litter again! On 5th June we were litter picking in Ouse Valley Park and along Stratford Road near Wolverton Mill. All in support of Keep Britain Tidy's Great British Spring Clean campaign supported by Milton Keynes Council.
.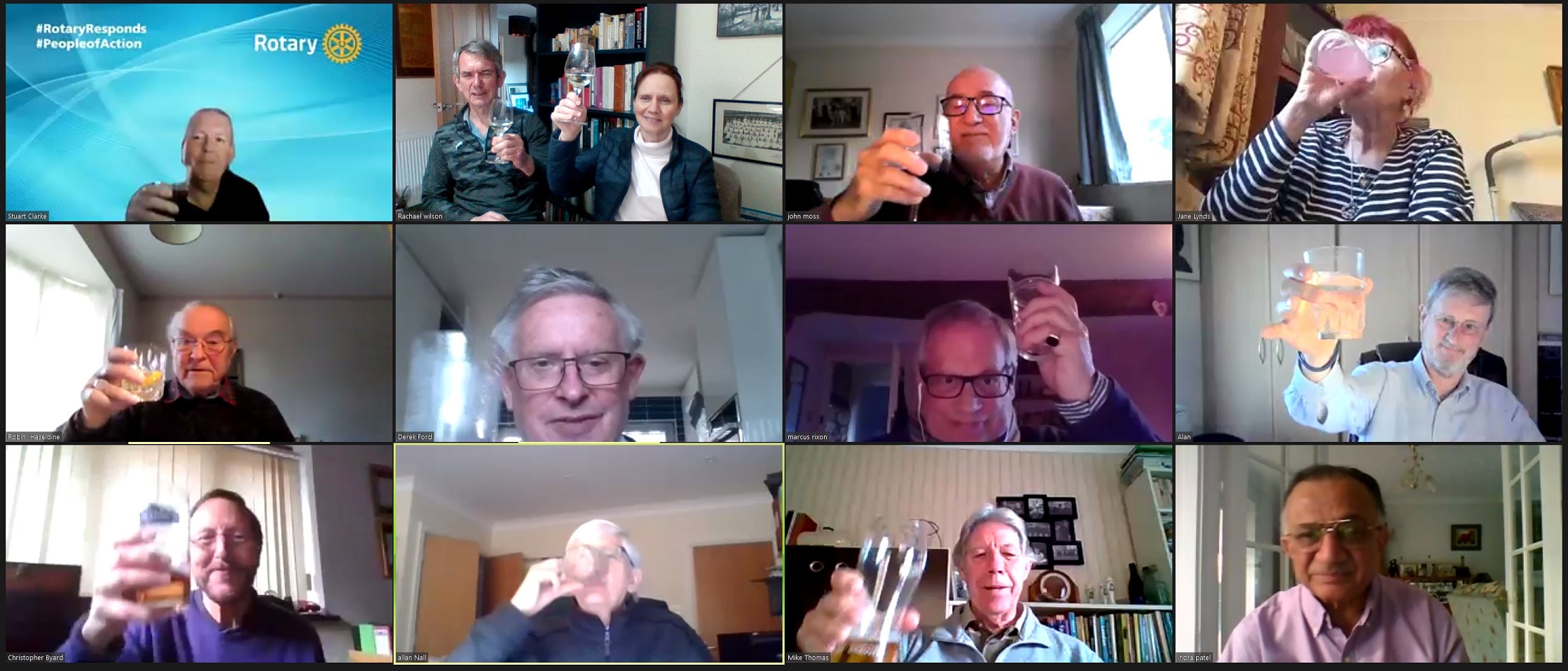 .
Cheers everyone
.
Members raising their glasses at one of our club meetings on Zoom shortly before we started meeting up again face-to-face again.
.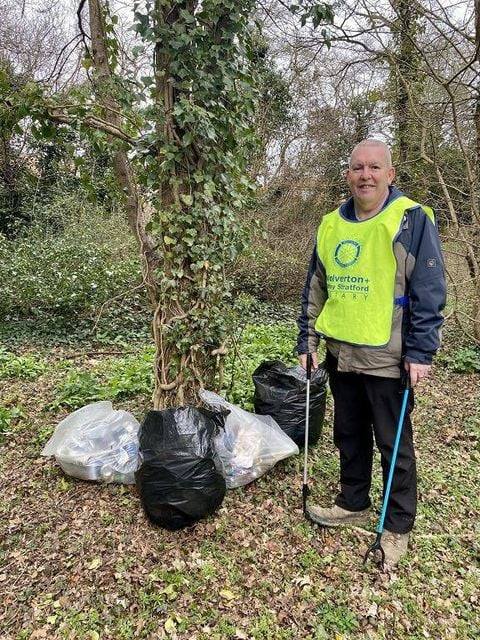 .
MK Litter Pick Weekend
.
Working with Ahmadiyya Muslim Youth Association your local Rotary Club helped with the great MK litter pick that took place the weekend of 27/28th March - picking up the litter near your homes!
About a dozen Rotarians, including Club President Stuart (pictured) and partners picked up litter near their own homes so they remained Covid compliant but could support this superb event.
Working with Saeed Nazir, President of AMYA MK, our President, Stuart Clarke, joined on a wonderful community project and great collaboration between community based organisations.
Thanks to all who helped.
.
.
Home Improvements?
.
Like most other charities and voluntary organisations, the Pandemic has effectively put a stop to traditional fundraising, but your local Rotary Club has come up with something a little different. Is this something that may interest you?
Having been at home for some time now, you may have been wondering what could you do to improve your home by making some alterations or perhaps adding an extension, but feel that you need some professional advice as to how this could best be done. So, what if you could achieve this AND at the same time give something to a worthy cause?

One of our members is a local Chartered Architect with 35 years' experience in the profession and is prepared to visit your home, within the Milton Keynes area, following socially distancing principles, to talk through possible ideas, designs, budgets and planning issues for up to one hour. ‍That member has kindly offered to donate the discounted £75 fee for this service to Rotary charities.
Is this of interest? Please let us know via our Facebook page at https://www.facebook.com/wolvertonandstonyrotary
.
.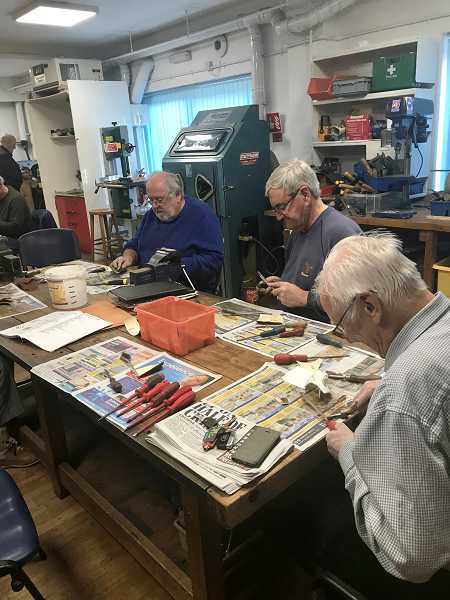 .
Tool for Self Reliance
.
Club members hard at work refurbishing donated old tools at the Milton Keynes workshop of 'Tools for Self Reliance'. The tools will eventually make up carpentry kits for onward distribution to Africa. Our visits are always rounded off with some well earned fish and chips!
Details about TFSR at http://www.tfsr-mk.org.uk
.
.
Kids Out Day 12th June 2019
.
Under the very able stewardship of Rotarian Jane we took a group of 106 children from Walnuts School for a day out to Whipsnade Zoo. Every June Rotary International in Great Britain & Ireland together with the Kids Out Charity organise for 25,000 disadvantaged children to go on a fun day out. The weather was kind, and the rain held out until our group of children were well on their way to the coaches for the return journey home. We have been taking the children from 'Walnuts' to Whipsnade now for over 20 years! Thank you to Alan Tarsey and his district team for organising the whole event.
.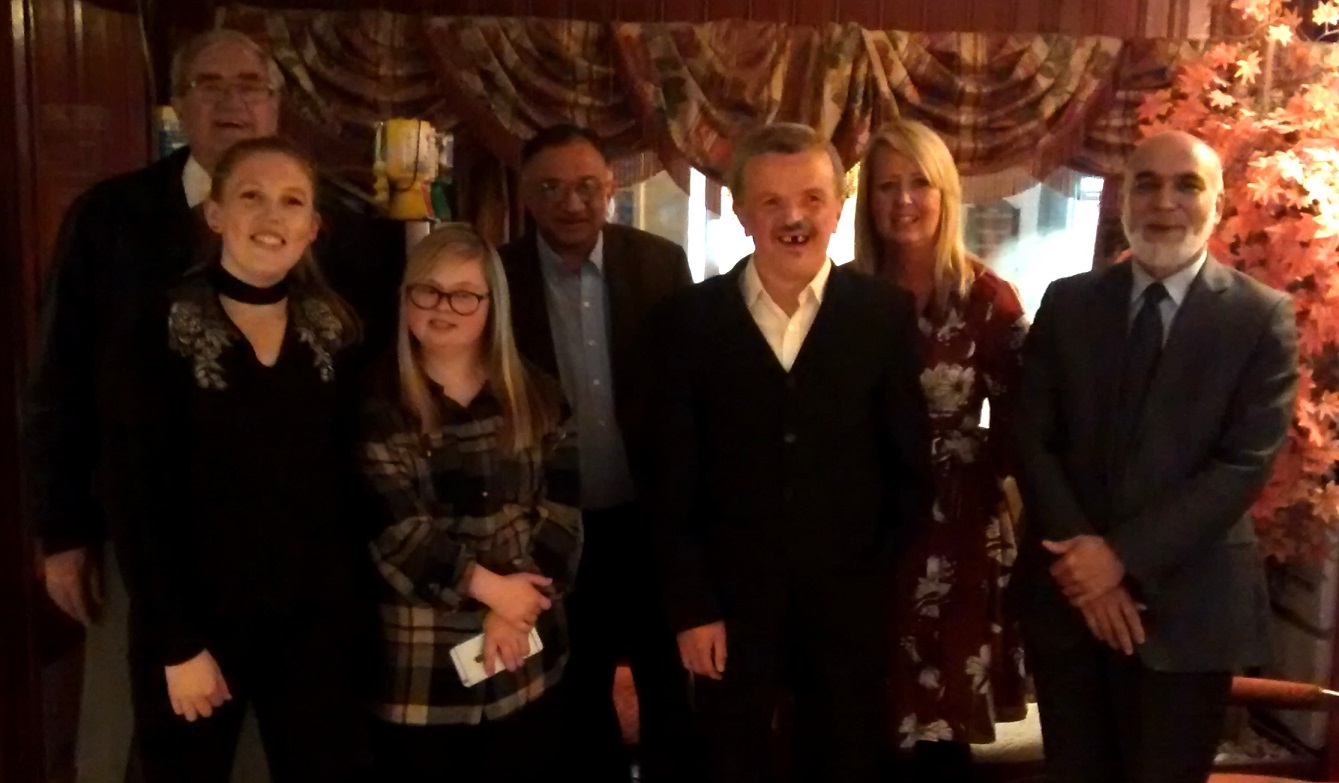 .
Bekash Fundraiser
.
A big thank you to all 60 people who attended our fundraising dinner in October, which raised a marvellous £780 to go towards the club's current project to refurbish the kitchen in MacIntyre's Coffee Shop. Thank you also to Mr Mukit, owner of the Bekash Restuarant in Stony Stratford which hosted the event, and to Rotarian Indra Patel for organising the event. Pictured above are club members and staff from MacIntyre Care with Mr Mukit.
.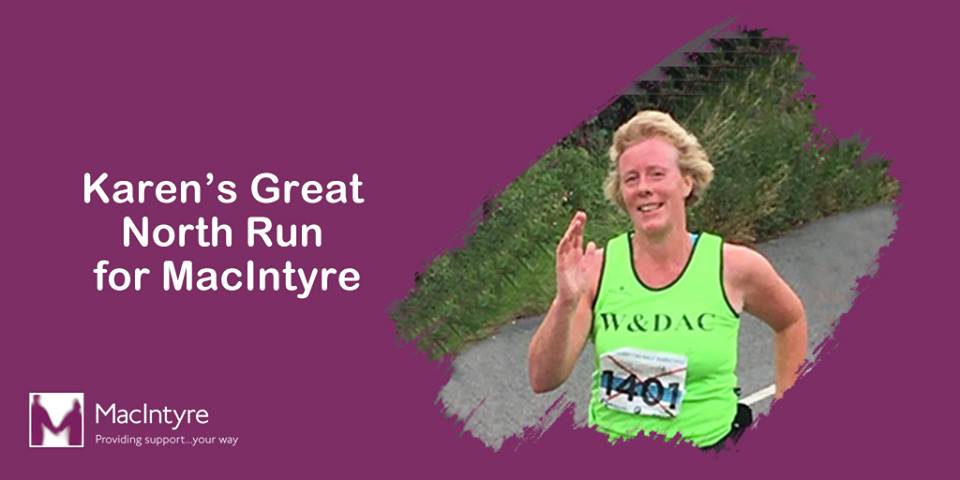 .
Congratulations Karen
.
Congratulations Karen Lower on completing the Great North Run on Sunday 9th September 2018. Karen has now collected all her sponsorship money, to the tune of £420, which will go towards our MacIntyre Coffee Shop kitchen refurbishment project.
.
Update: Congratulations Karen on completing the London Marathon on 28th April 2019 achieving a sub 5 hour time. Karen was raising funds for the Headway Trust. And if that was not enough Karen one week competed in the MK Half-Marathon achieving a time of 2:19.45 - well done again Karen.
.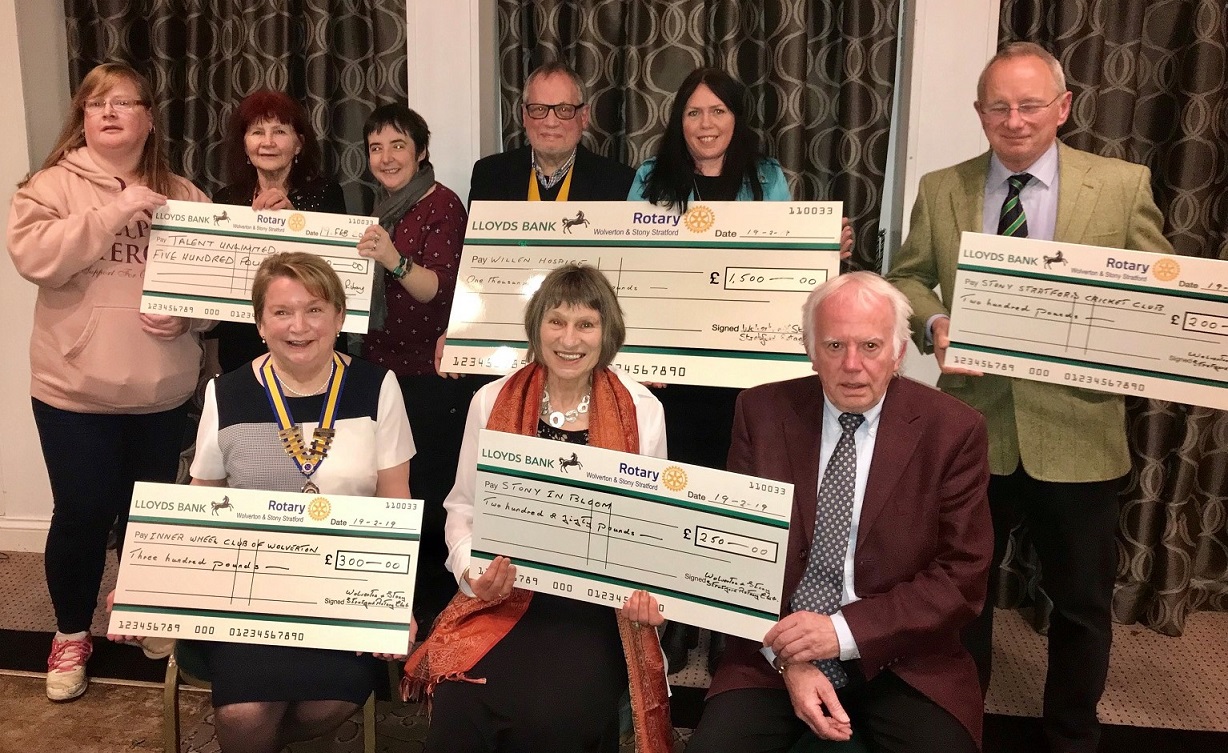 .
Cheques Presentation Evening
.
Very enjoyable evening on 19th February 2019 handing out cheques to some of the beneficiaries of our Christmas Float collections. The recipient charities on the evening were Willen Hospice, Talent Unlimited, Stony-in-Bloom, Stony Stratford Cricket Club and Inner Wheel Club of Wolverton. A huge thank you to everyone who helped with the collections and the general public for giving so generously.
.
And the following month (5th March) a cheque was presented to Wolverton & Greenleys-in-Bloom, again funded by the Christmas collection proceeds.
.
.
Week-end away
.
Thank you to John and Ann Waters for organising a very enjoyable 'club week-end away' break at the Alvaston Hall Hotel in Nantwich, Cheshire. Plenty of good food, lively entertainment and congenial company.
.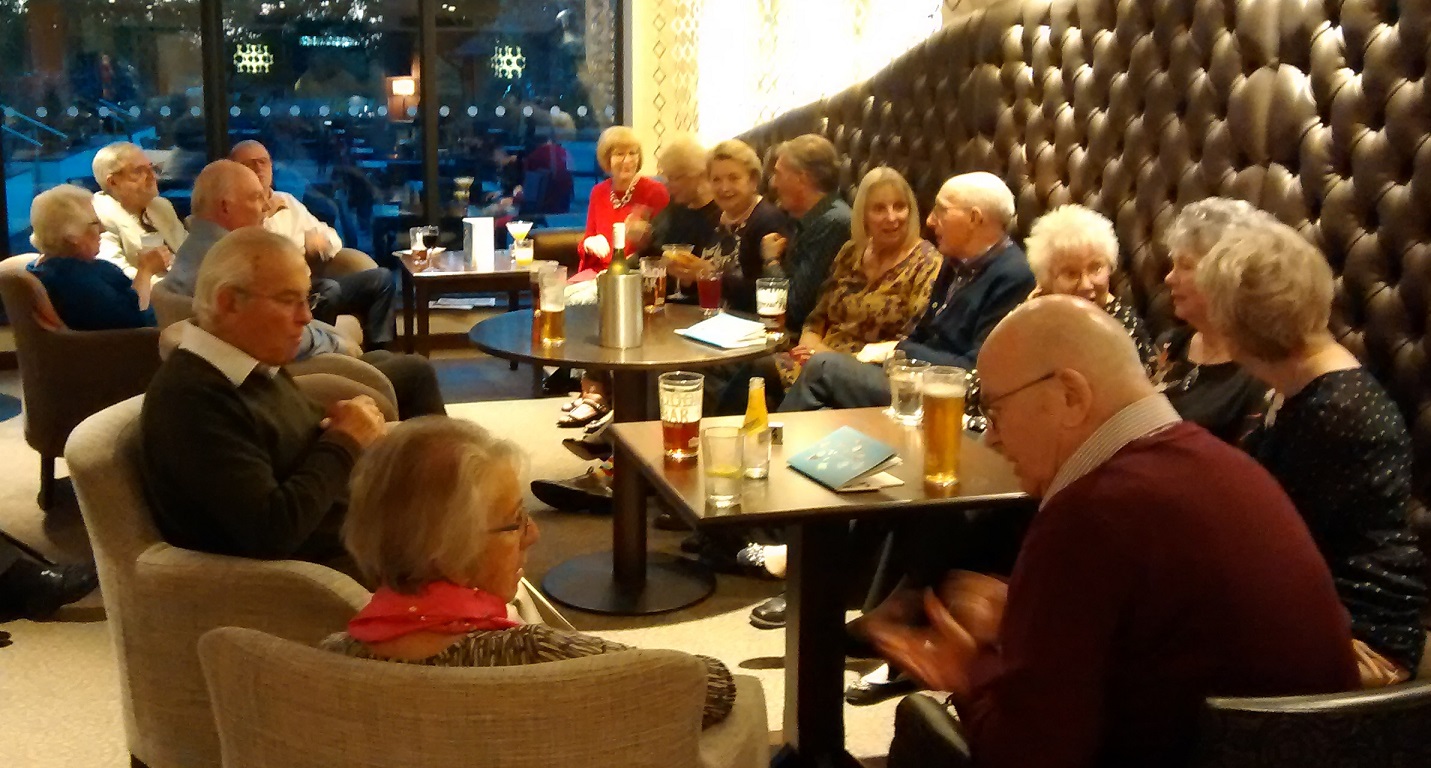 .
Going on Holiday?
.
If you are a member of Rotary you can earn 10% commission for charity every time you book with Riviera Travel. Whether you travel as a group, a family or on your own every holiday can earn funds for your club. Request a free brochure from Riviera Travel at: http://www.rtyriviera.co.uk
Please mention Wolverton & Stony Stratford Rotary Club when you book.
.
.
What are you doing this week-end? If you are clearing out your loft or garage, and have items you no longer require and do not wish to sell, then please give Rotarian Chris a call. We can convert your pre-loved items into cash, via further car boot and internet sales, to go towards our Rotary charities.
.
Our car boot and internet sales of donated goods over the last four years have been very successful (£600 raised in 2016, £350 in 2017, over £100 in 2018 and a similar sum in 2019). Everything on hold for the moment due to Covid-19 but if you are kicking your heels at home have another go at decluttering your home!!
.

.
.
.
Wolverton & Stony Stratford Rotary has raised £15,800 for its 2018/19 Charity of the Year, MacIntyre Care
.
We were delighted to have exceeded our fundraising target when we presented two cheques totalling £15,800, for the renovation of the coffee shop in Stony Stratford which went ahead in February2019. Thanks also to MacIntyre's own efforts the project developed over the year to include a refurbishment of the whole shop. "None of this could have happened without the generous support of club members as well as those who made donations throughout the year", commented project leader Rotarian Jim Barnes.
.
At a special cheque presentation evening Club President Alan Swann said that the club had organised numerous fund raising events over the past year, and thanked everyone who had been involved for their hard work and support. He added that fundraisers had included the Christmas carol concert, Santa collections, a restaurant dinner, games evenings, a stall at the Stony Lights fayre, the annual golf day, a 'loop-the-loop' in a glider challenge, race night and a cake & samosas sale at Santander, Shenley Wood.
.
Claire Kennedy, Head of Fundraising at MacIntyre, said, "We have loved working alongside the Club to raise these funds; it has been a real partnership and we recognise just how lucky we were to be chosen and to have been able to draw on the particular skills of club members, with a special mention for Jim Barnes, project leader. MacIntyre's coffee shops at Stony Stratford and Great Holm offer work and learning opportunities for adults with learning disabilities as well as fabulous fresh food at competitive prices. The Stony Stratford Coffee Shop has been long overdue a refit and we are delighted that this work can now take place".
.
Meal at Royal Thai Restaurant
.
Thank you to everyone who supported our recent Thai fundraising to raise funds to go towards our trip to the zoo in June for disadvantaged youngsters. And thank you to Jane Lynds who organised the event which raised a profit of £350.
.
.
.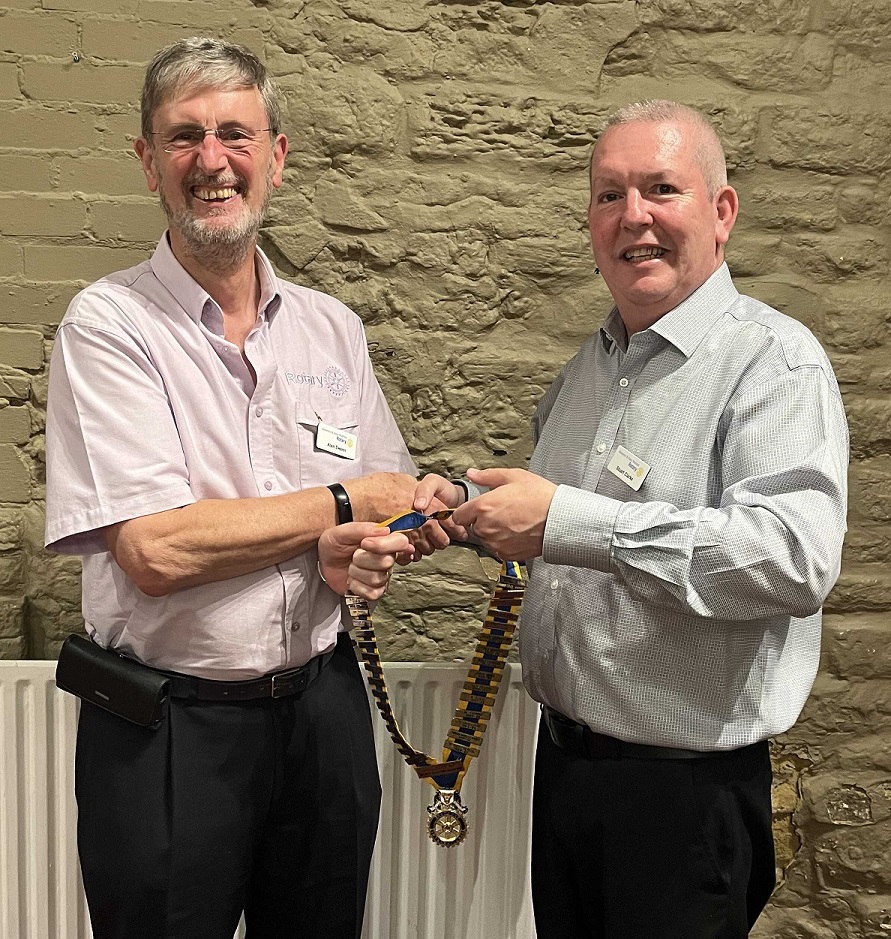 .
Our new Club President - 1st July
.
Pictured (right) is new Club President Stuart Clarke receiving the chain of office from retiring President Alan Swann. For the year ahead Stuart has prioritised membership growth and a continuation of our popular and successful programme of fundraising activities and supporting charities both locally and internationally.
.
And in turn Stuart was pleased to hand over the Vice-Presidency to Chris Byard. Congratulations to them both.
.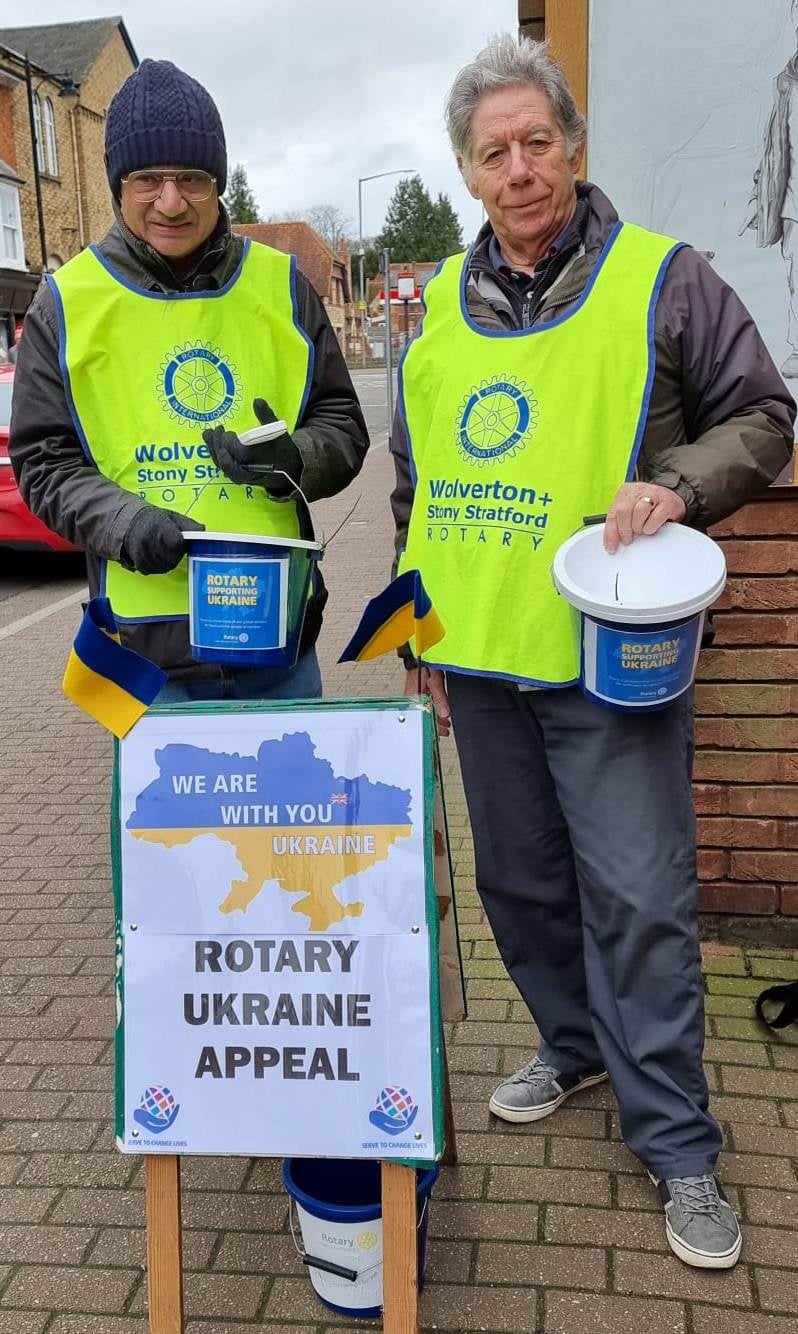 .
Rotary Ukraine Appeal
.
At our street collection in Stony Stratford last Saturday (5th March) we raised over £1,800, an amazing total. Thank you everyone for your most generous support; more collections are planned. Out of those funds we have already sent £1,000 to the Rotary Club of Warsaw Winalow International, to fund medical supplies being sourced in Germany where Rotarians are loading them onto lorries for transport to hospitals in Lviv, and £500 to ShelterBox for immediate humanitarian aid.
.
We have also organised and collected a lorry load of bedding and other essential clothing supplies, for transport to Ukraine by a local Ukrainian gentleman, and purchased £200 worth of first aid kits for the devastated region.
.
Update: Following two more public collections we have been able to donate a further £1,000 to the Rotary Club in Warsaw (for medical supplies for Ukraine) and an additional £350 to ShelterBox. Thank you to all who donated for your generosity.
.
Update, May 2022: We have sent a donation of £813 to the Rotary Club of Kyiv International to help fund its humanitarian relief efforts, after we heard all about its work during a zoom meeting with its Charter President which was hosted by East Anglia District.
.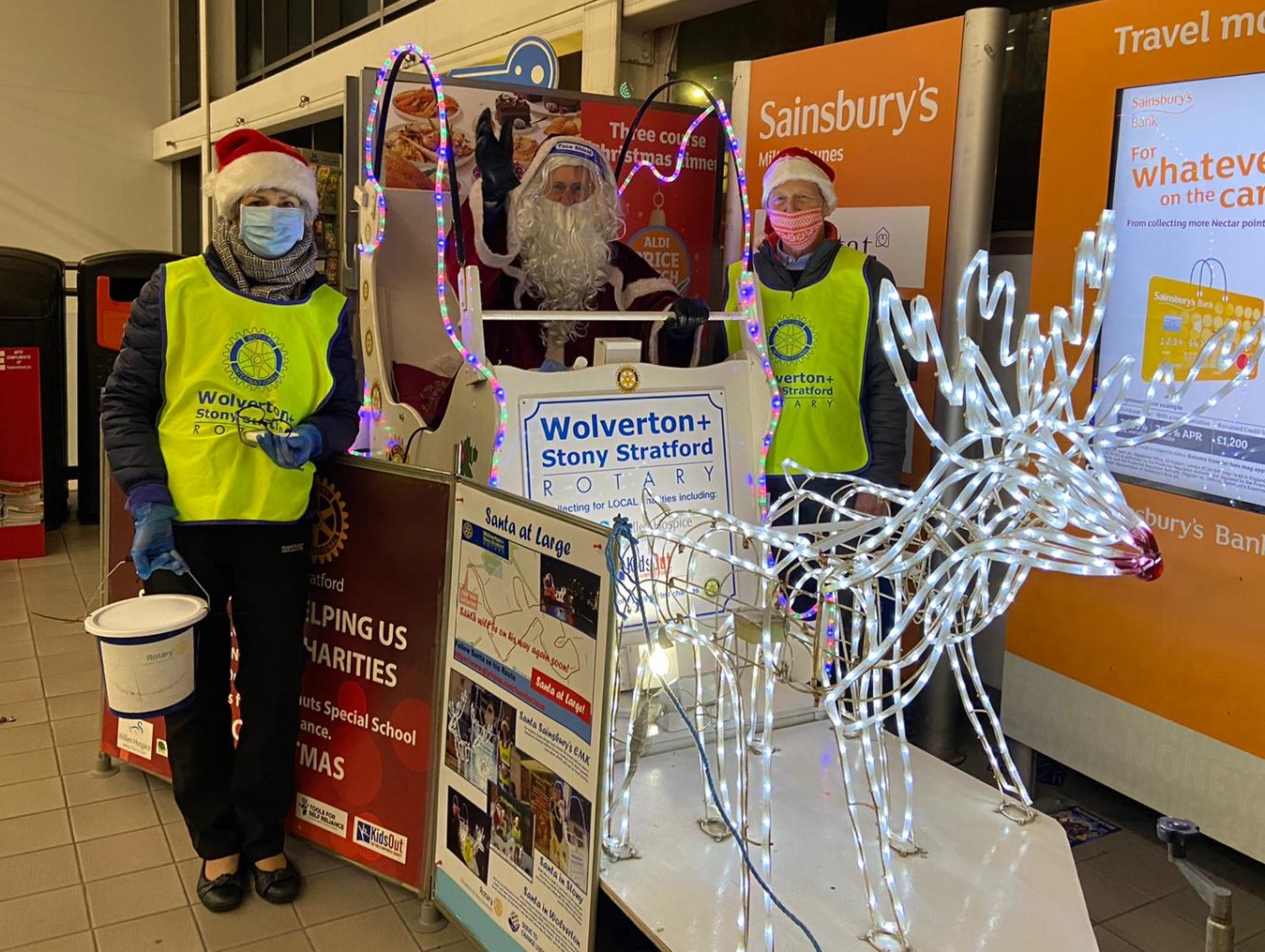 .
Santa at Sainsburys 20th to 23rd December
.
Santa Tours - New Bradwell/Wolverton, Fairfields/Stony Stratford 8th/10th/15th/17th Dec.
.
A huge thank you to everyone who helped with our Santa collections at Sainsburys CMK and on our evening Santa tours. And thank you to everyone who came out to give Santa a wave and kindly donated.
.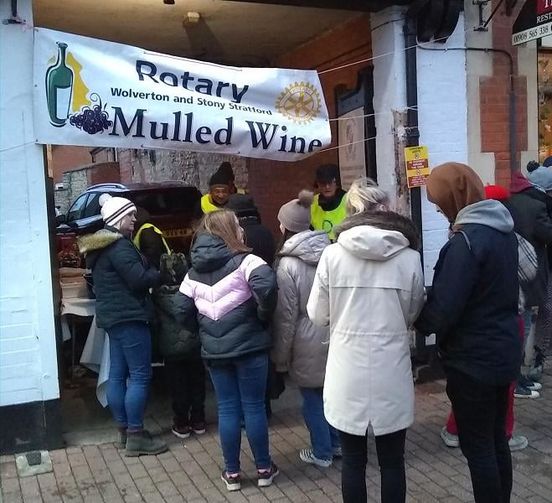 .
Stratford Christmas Lights Fayre
.
We were out in force, braving the very chilly wind, on the day of Stony Lights Fayre keeping the public well served with piping hot mulled wine, mince pies and gingerbread reindeer. A big thank you to all for your support and purchases on the day.
.
.
.
Wolverton & Stony Stratford Rotary is organising a Balloon Race
.
Thank you to all who bought balloons in our
VIRTUAL BALLOON RACE
for the chance to win cash prizes!
https://www.balloonrace.com/WSSRotary.
The race started the day of our Open Evening on Tuesday 26th October when members of the public had the opportunity to see the charities we support locally, nationally and internationally and what fun we have doing so!
The three winners have all been notified of their good fortune and our charity fund has benefitted from a proportion of the monies raised.
.
.
Photo reproduced with kind permission of ShelterBox
'
Helping victims of earthquake in Haiti
.
As many of you will have seen there have been some tragic scenes in Haiti. ShelterBox is an organisation that your local Rotary and other Rotary Clubs the world over support because they put family first.
ShelterBox teams work with disaster-hit families around the world, offering emergency shelter and other essential items to support them in rebuilding their lives.
We have decided to send £250 to support their emergency Haiti appeal, if you feel you could support too please visit https://www.shelterbox.org/
Thank you.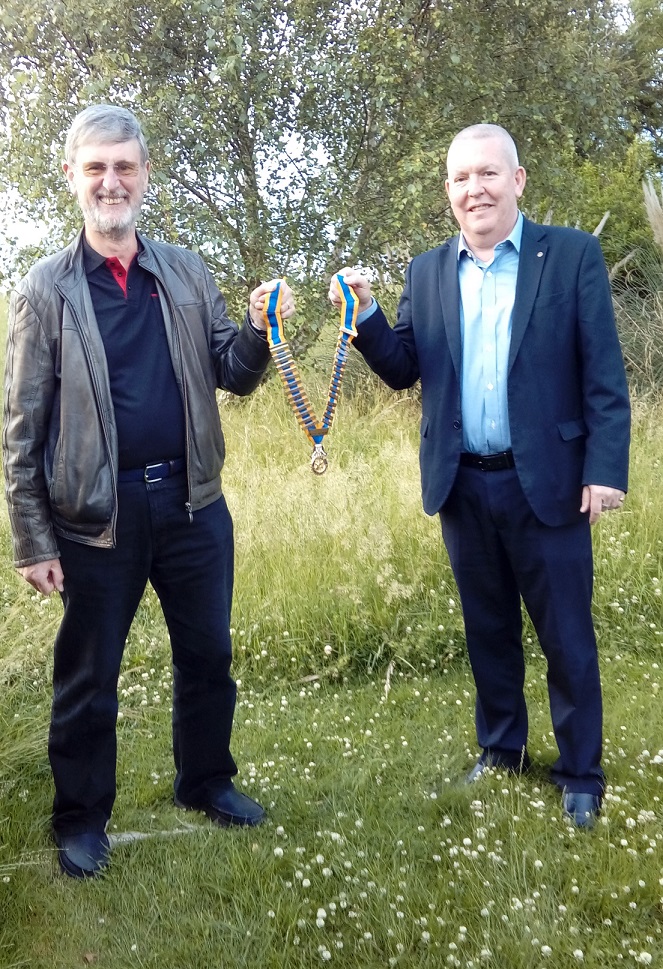 .
New Club President for 2021/22
.
The first of July marks the start of our new Rotary year, with a new President taking up office.
Pictured (left) is new President Alan Swann receiving the chain of office from retiring Club President Stuart Clarke; congratulations to Alan. We all look forward to the opportunity of undertaking a full programme of fundraising, helping our local community and supporting international humanitarian good causes as we emerge from the pandemic social distancing regulations. Oh, and not forgetting the chance to re-start our programme of social events!
.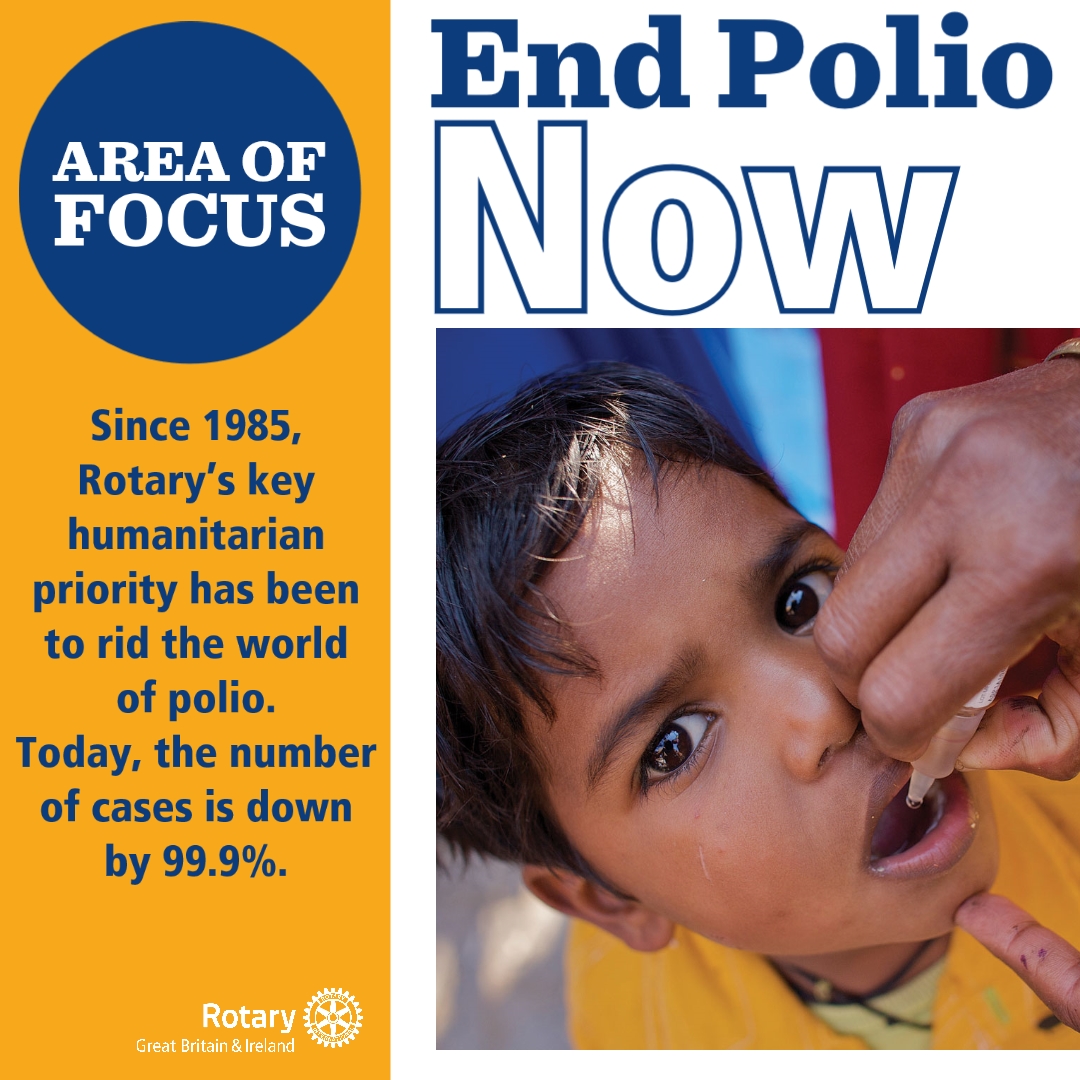 .
Since 1985, Rotary's key humanitarian priority has been to rid the world of polio. Rotary spearheaded the campaign at a time when there were over 1,000 polio cases a day in 125 countries, paralysing and even killing children. Today, the number of cases is down by 99.9%.
Over the last 30 years, Rotary has donated US$1.8 billion to the eradication effort and has protected over 2.5 billion children from the disease through vaccination programmes. Inspired in part by Rotary's volunteer commitment and fundraising success, the Global Polio Eradication Initiative was launched in 1988. This partnership includes Rotary, World Health Organisation, UNICEF, the US Centre for Disease Control & Prevention and, more recently, the Bill & Melinda Gates Foundation.
.
There are only a handful of cases left in the world but continued vaccination programmes are essential to stop the disease returning and ensuring the world is certified polio-free. Rotary members continue to be key players in many aspects of the polio programme, including on the ground support and fundraising. Members of Wolverton & Stony Stratford Rotary Club, along with Rotary members throughout Great Britain and Ireland, have been huge supporters of 'End Polio Now'.
.
.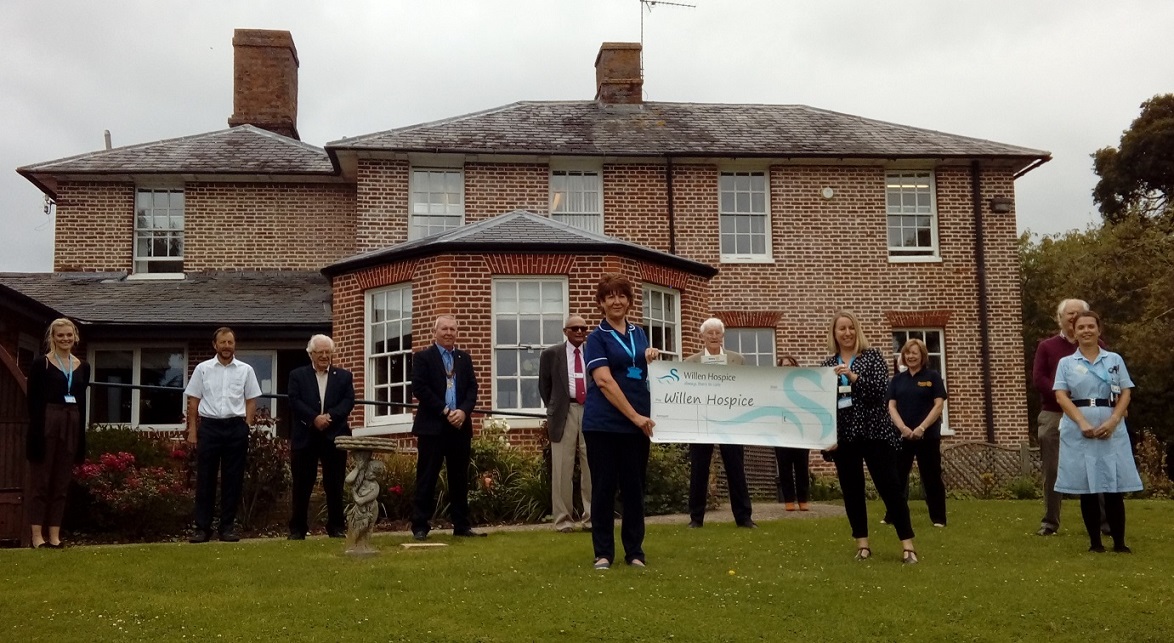 .
Donation of Equipment to Willen Hospice
.
Rotary Clubs in Rotary District 1260 (Herts, Beds and Bucks) joined forces to apply for a grant from Rotary International to support hospices throughout the district. On 16th July we joined with our District Governor, Vijay Patel, and representatives from four other local Rotary Clubs (Leighton Linslade, Newport Pagnell, Woburn Sands and Winslow) to present equipment worth £8000 to our own local Willen Hospice. Pictured above is Nikki Poole and other staff at Willen receiving the donation. The amount raised within our district was boosted by matched funding from the Foundation of Rotary International and a donation from the Rotary Club of Bloomington, USA.
A socially distanced presentation took place and a plaque handed over to commemorate the occasion.

.
Our New President
.
Pictured above is a screen shot of our Zoom meeting on 30th June when retiring President Marcus Rixon had the pleasure of (virtually) handing over the chain of office to newly elected President Stuart Clarke (pictured top first left). Alan Swann takes over the role of Vice President. Congratulations to both Stuart and Alan, and thank you to Marcus for stewarding the club over the past 12 months. We look forward to another year's programme of great fundraising and social events (social distancing regulations permitting), helping the local community and supporting international humanitarian good causes.
.
.
Covid-19 Update
.
Despite the restrictions currently in place on people's movements and activities, in response to the Coronavirus pandemic, we are doing our best to continue to serve our local community. Although our club members are unable to meet physically they continue to do so digitally and via online platforms. We have made donations to the following local charities which are working hard during these troubled times:
.
'We Are Wolverton', community support group
MK Food Bank
MK Act, Domestic Abuse Intervention Services
Ox, Bucks, Beds & Northants Blood Bikes (SERV)
PACE, children's charity
.
Members of the Rotary Club have also clubbed together and made a donation of £500 to MK Hospital Charity's Covid-19 Appeal in appreciation of all the heroic work being done by our local NHS staff. Our grateful thanks to you all.
.
Rotary Technology Tournament - 2020
.
Teams from schools across Milton Keynes competed in the Rotary Technology Tournament on 11th March 2020. The annual event, organised by all the Rotary clubs within Milton Keynes, was held at Walton High School, Brooklands
.
Teams of four were challenged to design, construct and test a pendulum and lighting device capable of performing to the specification stipulated. Marks were awarded for teamwork, design, manufacture, documentation & task completion. An enjoyable experience watching the enthusiasm and ingenuity of all the students. Cash prizes and shields were awarded to the winners of the three class categories.
.
Winners
Foundation: St. Pauls School, team1
Intermediate: Lord Grey School, team2
Advanced: Denbigh School, team3
.
Santa's tours December 2019
.
Santa and his helpers from Wolverton and Stony Stratford Rotary Club collected over 5 days at Sainsbury's, Central Milton Keynes and six evenings of tours around Wolverton, Greenleys, New Bradwell and Stony Stratford.
.
Thank you to Jane Lynds for organising our evening tours of Wolverton, Greenleys, New Bradwell and Stony Stratford and Alan Swann for arranging the five days of collections at Sainsbury's. Thank you to club members/family/friends who collected and of course the general public for giving so generously. Also, thank you to Sainsbury's for allowing us to collect at its store. Santa attended all the collections and would like to say his own big thank you to all the children who came to see him, especially those who gave him letters; he found them very useful. The total raised came to over £4,200 which has now been distributed to several charities and local community organisations including Willen Hospice and the MK Hospital Cancer Centre Appeal.
.
This year our evening tours were done a bit differently largely because of the very congested nature of most of our streets; we did not want Santa to cause a traffic jam! We parked up in different spots and we hope you and your young ones were able to see Santa. Below is a list of where we visited and we will review the experience of the new arrangements and consider whether to make any further changes for next Christmas.
Wolverton Monday 2nd Dec. - Agora 6.00pm, Radcliffe school carpark 6.45pm and the Galleon pub 7.30pm
Greenley's shops Thursday 5th Dec. - 7.30pm
New Bradwell near clock tower Thursday 5th Dec. - 6pm
Oakridge shops Thursday 5th Dec. - 6.45pm
Stony Stratford Friday 6th Dec. - Budgens 6.00pm, Market Square 6.40pm, High St (from St Mary & St Giles Church to top of town) 7.15pm
Old Stratford Wed. 11th Dec. – Deanshanger Rd opposite Willow drive 6.00pm, front of Blackhorse Drive 6.45pm
Potterspury Wed. 11th Dec. – Village Hall 7.30pm
Fairfields Thurs 12th Dec. - Primary School 6.00pm
Stony Stratford Friday 13th Dec. Mobile route around southern Stony Stratford 6.00pm – 8.00pm
.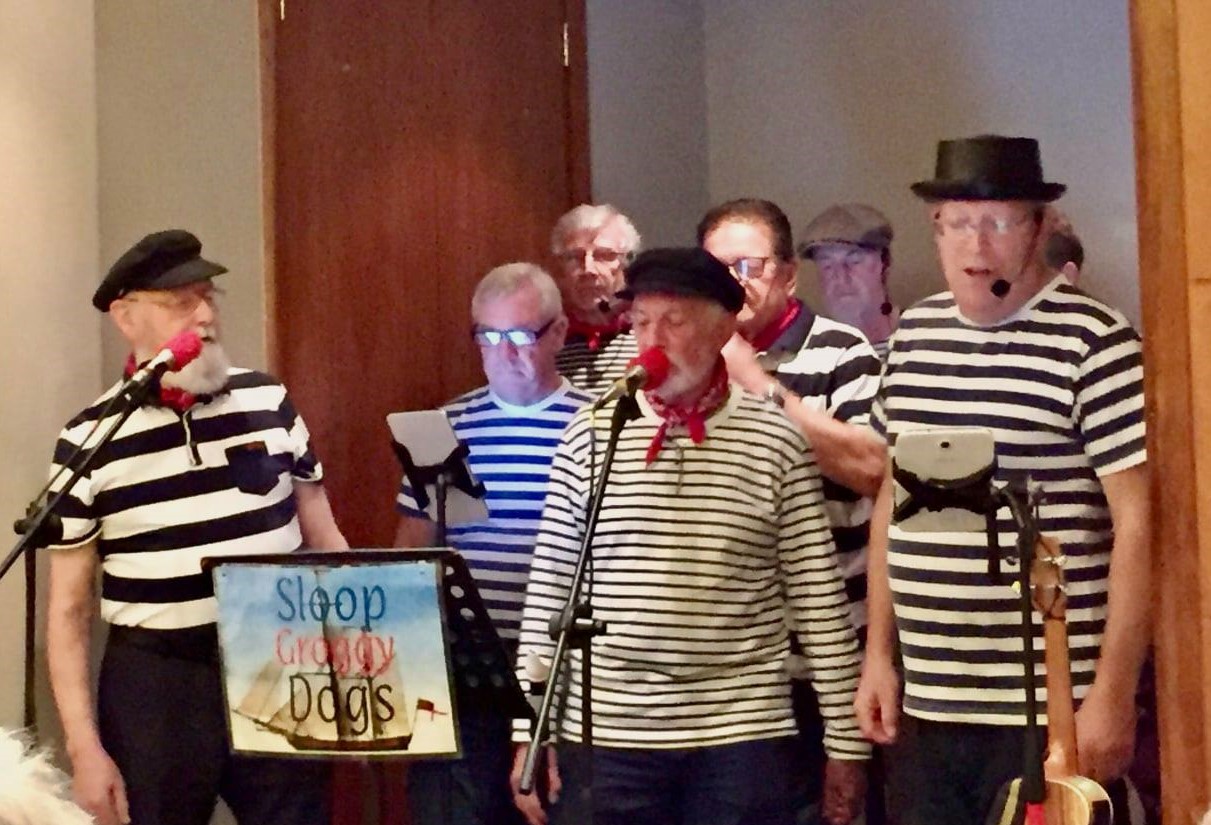 .
60th Anniversary
.
On Saturday 19th October 2019 we had a fantastic party at the Holiday Inn, Milton Keynes, to celebrate our 60th anniversary. We were joined by District Governor Mary Whitehead, and representatives from Wolverton Inner Wheel and other local Rotary clubs. We were entertained by the Sloop Groggy Dogs (above) with a very varied selection of sea shanty songs plus a bit of audience participation spliced into the act. Also very entertaining were the antics of some of our guests trying to master the rocket balloons!
.
And, it was a wonderful opportunity to honour one of our own. President Marcus and District Governor Mary had the pleasure of awarding a Paul Harris Fellowship award to John Welch who has clocked up well over forty years service to the club. In addition, the club was presented with a certificate marking its sixty years service to the community signed by Rotary International's President Mark book for